Yama No Chaya: Hakone, Japan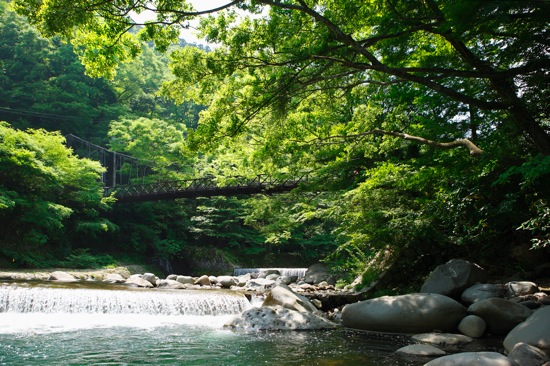 Anyone that knows me knows one of my favorite places in Japan is Hakone, the mountainous hot spring town outside of Tokyo. It's hard to explain why it's so special because on paper it just looks like a total tourist trap– but it's really one of the most magical places I've discovered in my many trips around Japan.
Luckily (and one of the reasons I like it), it's very convenient to get to. It sits only 45 minutes from Tokyo by train or 2 hours by car which makes escaping there for a night or two even more appealing.
My American friends who haven't been don't get it though. They say, what's so good about a volcanic mountain town? Why would you want to go there every time you're in Japan when there is so much else to see? I just tell them one word: Onsen. To them it just sounds like I'm talking about a "hot tub", but it's not just a hot tub. It's so much more.
Onsen is an ancient tradition, and if you ask me I think the volcanic waters of Hakone carry magical healing powers that have to be felt to be believed.
But a good Onsen isn't complete without a great Ryokan to stay in. In it's simplest form, Ryokan's are Japanese style inns that serve you dinner and breakfast in your room. In Hakone, Ryokan's are known for their incredible cuisine and of course, wonderful hot springs you can use throughout your stay.
On one of my most recent trips to Japan, I checked out a very special and hidden Ryokan called Yama No Chaya in the mountains of Hakone, right on the rushing Hayakawa river. The name literally translates to "mountain teahouse" and has been a friendly place where people can drop in for tea for more than 50 years.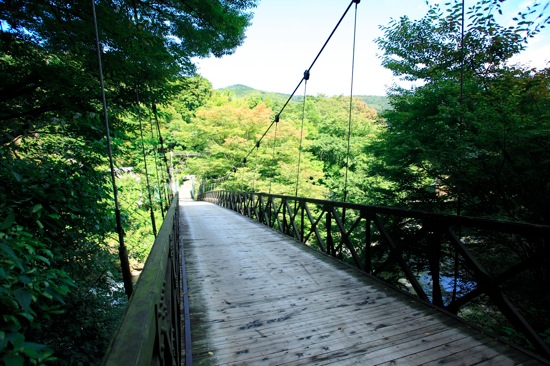 The property is built into the mountainside on the other side of the river from the road. It's quiet and secluded from everything. You arrive after crossing a one-way suspension bridge (awesome) and driving up a a steep stone driveway.
We arrived during a huge rain storm, so we couldn't wait to get inside!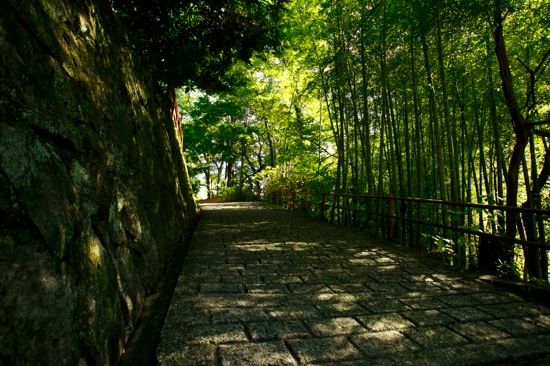 Beautiful bamboo trees growing everywhere, welcoming us to our home away from home.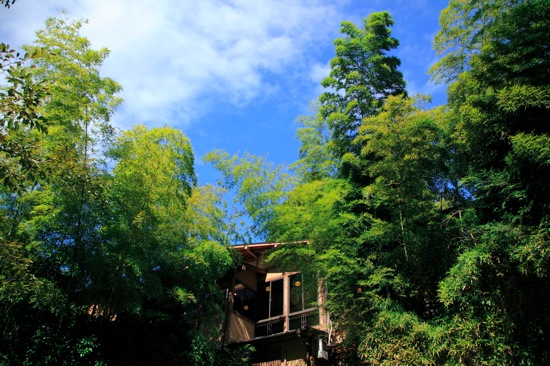 Getting good photographs of the outside of Yama No Chaya is tricky. The Ryokan (probably by design) almost camouflages into the hillside.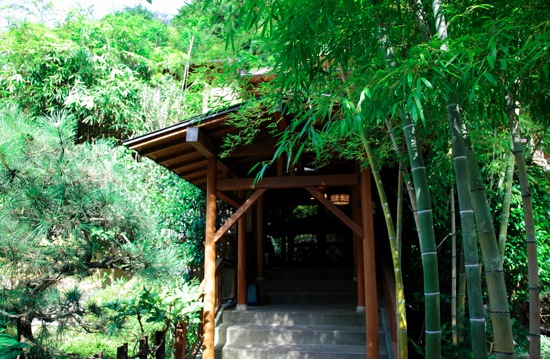 After arriving into the first part of the building here you remove your shoes (and say goodbye to them for the rest of the time you're inside), and then you enter a land of tatami mats. Socks or barefoot only please!
You're immediately hit with the distinct and wonderful and unique smell of the tatami and wood structure of the Ryokan.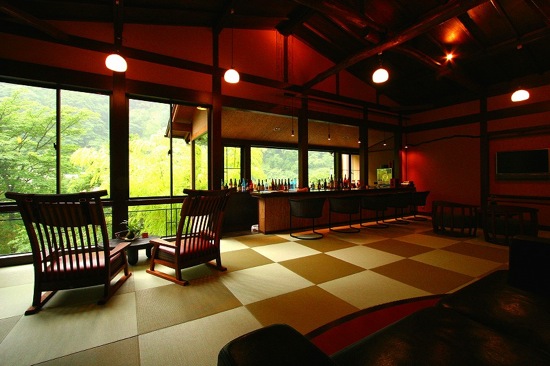 We were led upstairs to this beautiful lobby like lounge area with a bar that had a great view of the trees and river below. It was here that we met our host, the Okami. She was essentially the ryokan manager and she checked us in and introduced us to our Nakai, who would be our room host serving us meals and taking care of us during our stay for the couple nights we were there.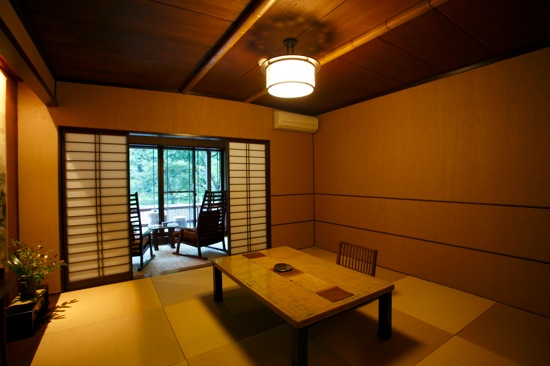 We were led to our room upstairs– we stayed in what was called a Tsukimidai style room. It was very basic and almost Zen like. It was simply made up of tatami mats and a table in the daytime. At night, the table was pushed aside and buckwheat futons with luxurious down comforters were put in it's place after dinner.
Tsukimidai literally translates to "moon-viewing deck," and these specific rooms have all been designed with this in mind. Great big windows and comfortable lounge chairs face outwards towards the sky from the comfort of your room.
Yama No Chaya has 15 rooms in total, and 7 different types to choose from. Some have balconies, some have private open air hot spring baths, while others (like the one we stayed in) had no private bath but a nice view of the mountain, river and sky (and an incredible sunrise reflecting on the trees). They also have one room which has Western style beds if sleeping on futons on the floor isn't your thing (it's mine, and we loved it!).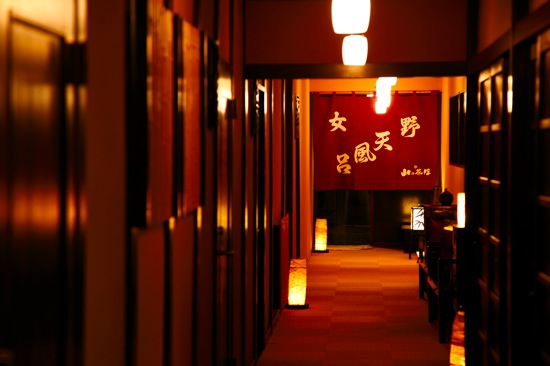 After settling in, we headed to check out the baths before dinner. There were 5 different baths sprinkled throughout the property. 4 of them were open to the outside, which was extraordinarily beautiful. The fresh air comes right at you as you're sitting in the most amazing setting. Above is the curtains hiding the entry to the female baths.  Red is for women, blue is for males!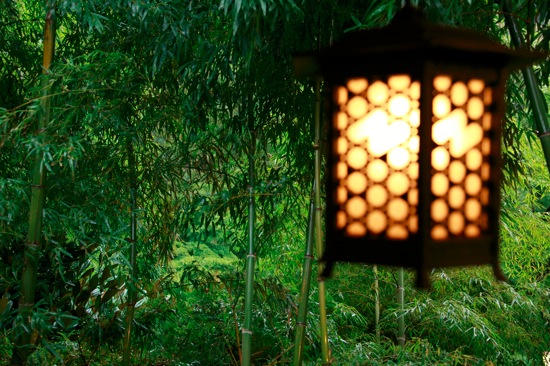 A beautiful lamp hanging in front of bamboo groves leading to the baths.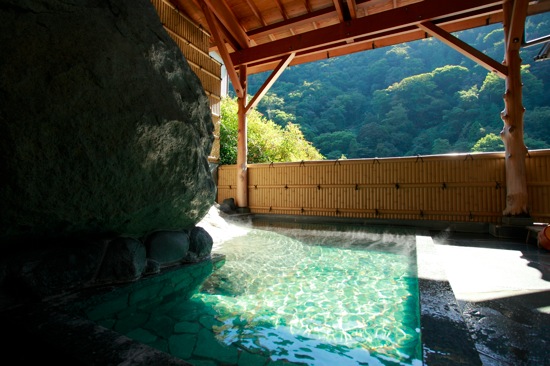 The water comes from the Tonosawa hot spring which was discovered in the Nara period (710 to 794) and became known as one of the seven great hot springs of Hakone. The crystal clear boiling water is pumped up to the hotel from 300m below, temperature controlled, and then released into the baths, like the one here.
Part of why I love the Onsen experience so much is you must spend a good amount of time cleaning yourself before you get into the baths. Right outside of this photo is a line of faucets and stools for cleaning yourself.
Onsen's are deeply peaceful and reflective places, so it's a good time to check in with your body, clean between your toes, behind your ears, and really scrub yourself free of dirt, grime and even negative feelings.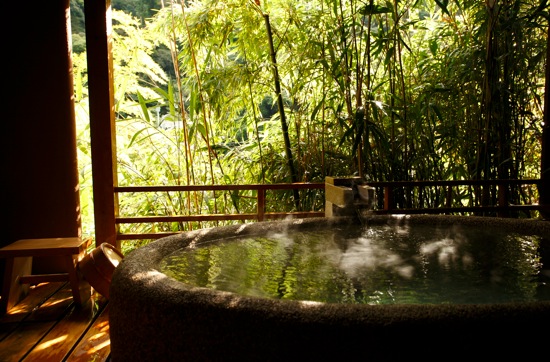 A shot of a private bath connected to one of the rooms.

The public baths are separated by gender, and then cleaned and switched throughout the day so you get to experience all the different types of atmospheres the baths create.
There are no swim suits allowed, and you don't bring in any soap, shampoo, or contaminates into the water. So it's crucial that you get extremely clean and make sure all the soap is off your body before you enter. If you book a room with your own bath, like this one shown here, you can share it with your partner anytime– but you still clean before you get in as if it were public. It's also possible to book a bath for one hour privately in advance to share the experience with your family or partner.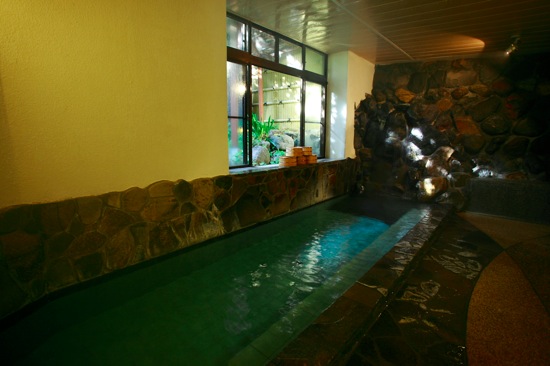 The indoor bath.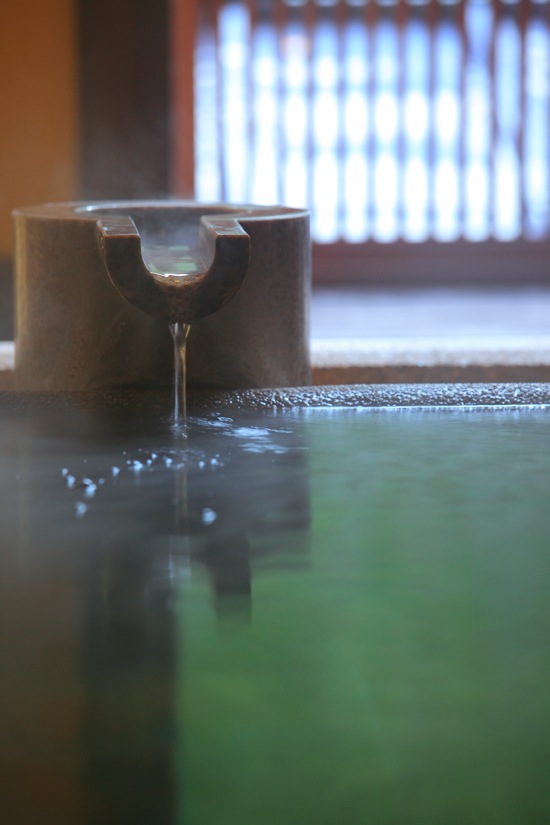 This water is as crystal clear and healing as it gets.
I'm not a scientist, but the volcanic nature of the water in Japan means the water is packed with incredible minerals that heals skin defects, helps aches and pains, and turns your whole body as soft as the day you were born. One minute in a Japanese Onsen and you'll be hooked, I promise.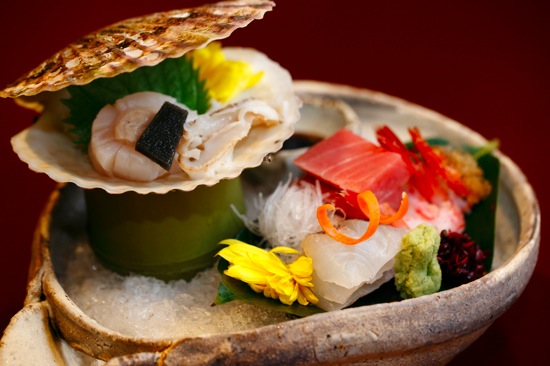 After Onsen we headed back to our room as our nakai was getting our room ready for dinner. Dinner is served Kaiseki style in a ryokan, which means a traditional multi-course dinner. It's a pretty long affair and you're given tastes of everything you can imagine.  One word of advice: Pace yourself.  It can go on forever!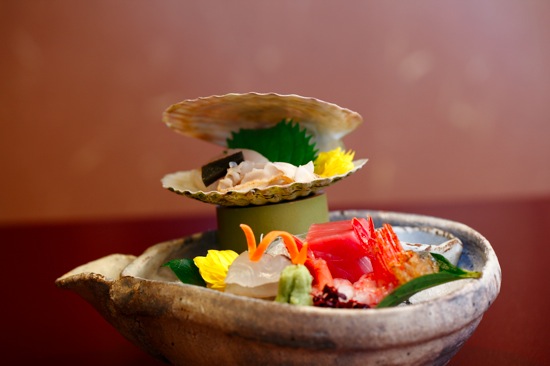 Mouth watering Sashimi.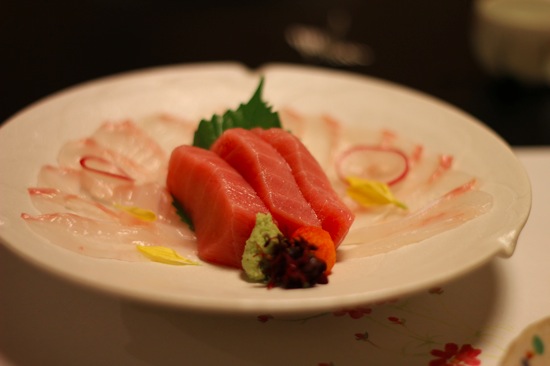 More incredible sashimi. So photogenic!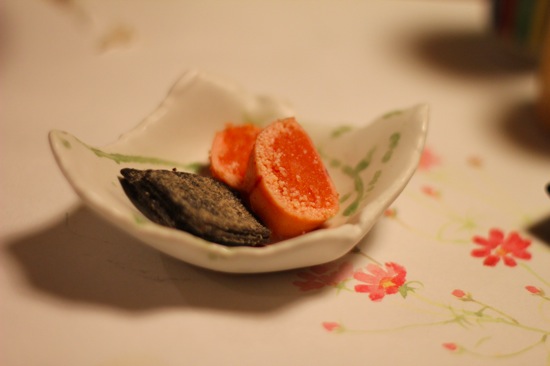 Every meal in Japan comes with pickles of some type, beautifully prepared.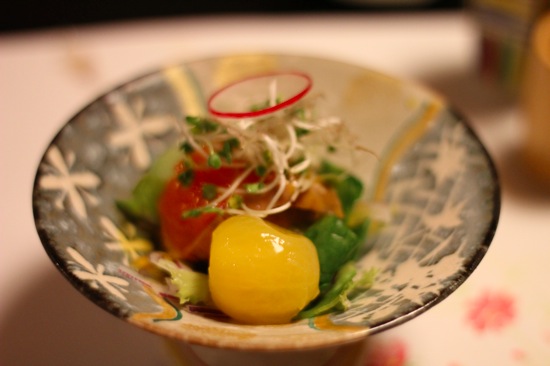 A salad with tuna and radish and fruit.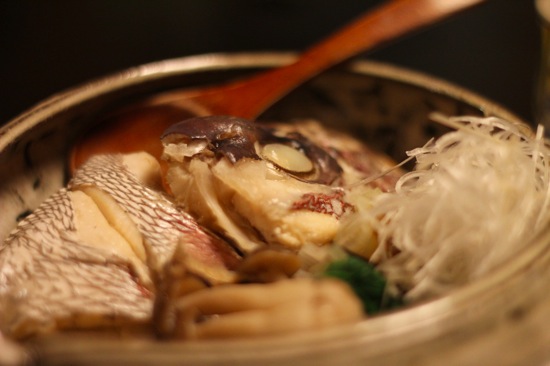 Yep, that's fish head in some type of stew and it was delicious.
I don't remember the Japanese name for this, but it was a unique potato.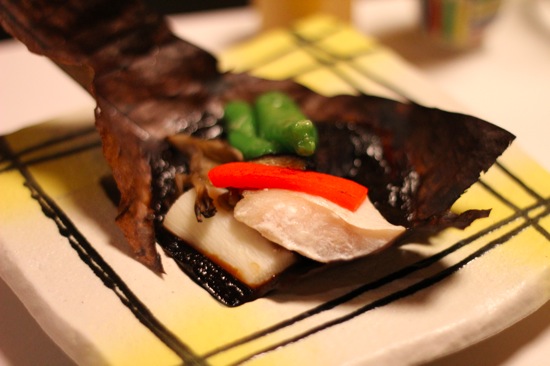 Grilled fish with miso.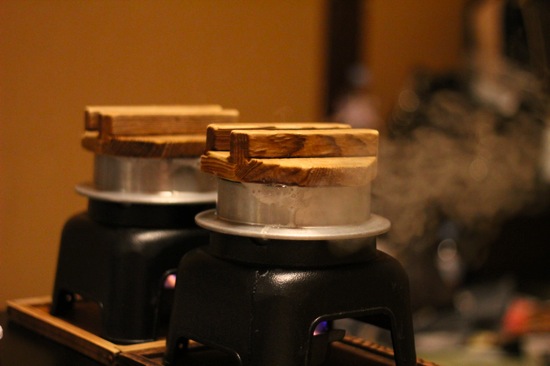 Two pots of rice, cooking at our table!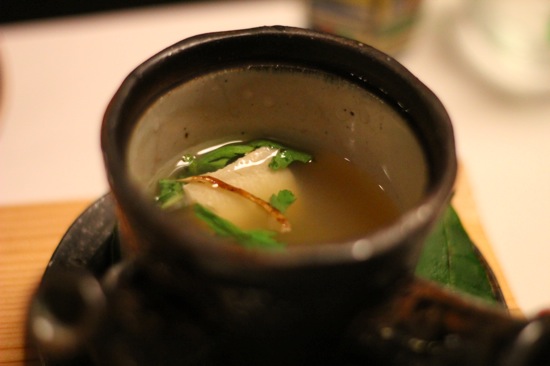 One of my most favorite dishes in Japan is this soup stock made with yuzu citrus and matsutake mushrooms. Incredibly delicate, warming, and a unique taste I've never been able to find or replicate anywhere else in the world.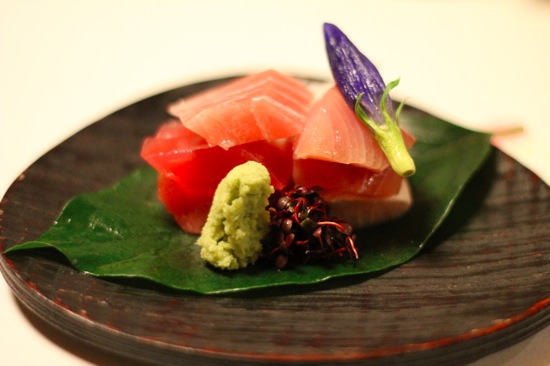 Tuna with fresh wasabi.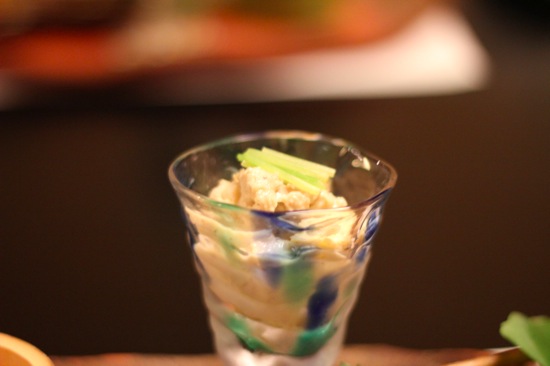 This is a creamy chestnut-like concoction. If I could have it everyday, I think I would.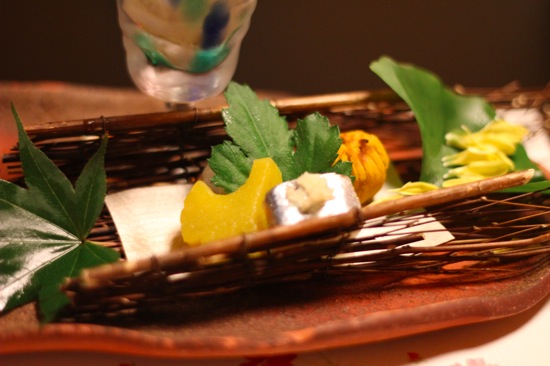 Some pumpkins and a piece of mackerel with horseradish.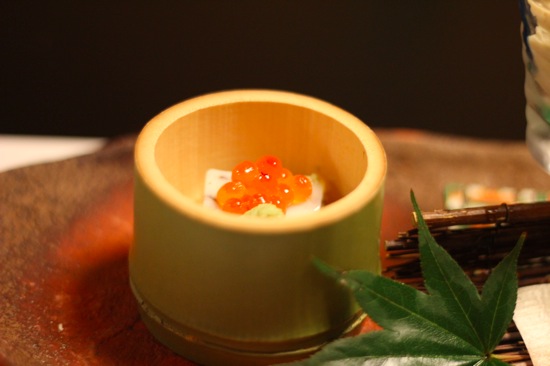 Tofu topped with ikura and wasabi.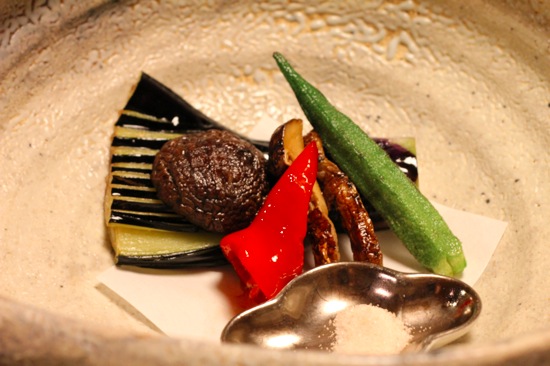 Lightly fried vegtables with fresh salt.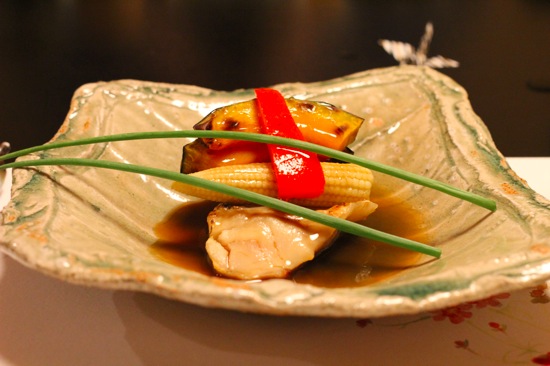 Fish with baby corn, peppers and Japanese pumpkin.
Rice, ready now!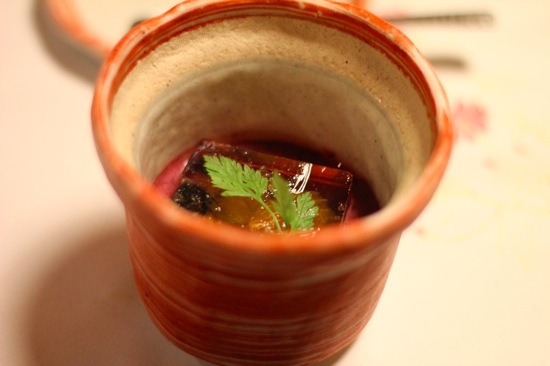 And finally, a berry-jello like desert that I'll never forget. A refreshing way to end a long kaiseki style meal!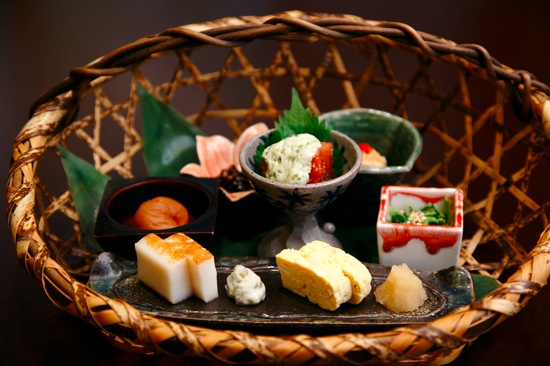 And here's what breakfast looks like the next morning. Some pickles, eggs, and other delicacies.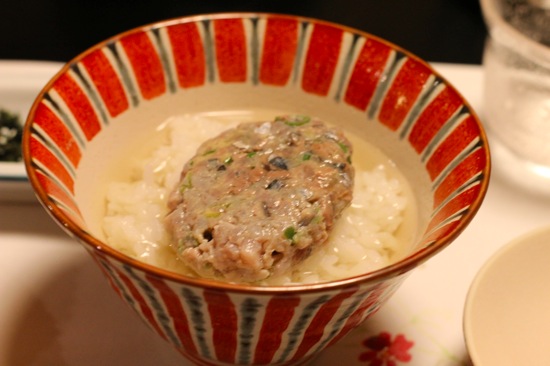 And the best part ever, tuna lightly cooked by pouring hot water on it over a bed of rice. I can't tell you how delicious this was at eight in the morning!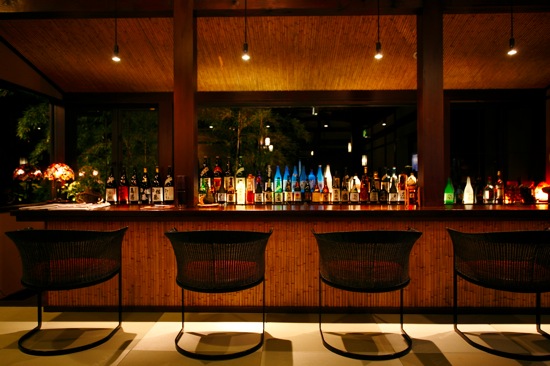 After dinner drinks at the bar. Beautifully illuminated Sake bottles look great with the lighting.
Incredible facilities, wonderful staff and a truly special dining experience– Yama No Chaya was a treat, I highly recommend visiting if you make it to Japan and want an easy and luxurious side trip out of Tokyo!  The staff were careful of our dietary restrictions and allergies (you'll see, no beef here), and were there with for us whenever we needed them.  I'll be back!
The best way to book Yama No Chaya is through our friends at the Ryokan Collection on their website or directly by email to enquiry@ryokancollection.com