Biome by Samuel Wilkinson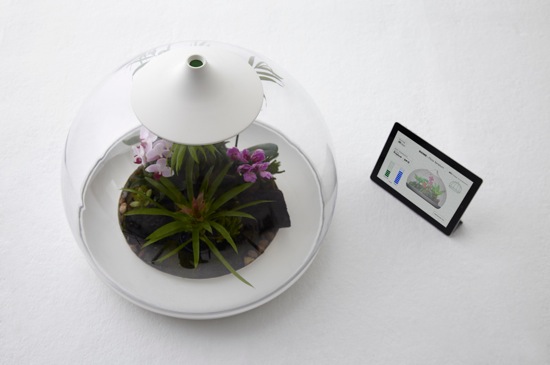 Okay, this is amazing. I want one.
London based designer Samuel Wilkinson has designed a flora terrarium that links to your iPad.
Biome is a flora terrarium that's works a little like a live tamagotchi – with a smartphone or iPad as its key to controlling its climate, water level and nutrients.
The idea promotes 'digital downtime' by finding an alternative use for smartphones and encouraging their owners to consider a slower life. The control and nurturing of a real mini eco-system takes patience and care, contrasting with the immediacy of messaging or tweeting that is so characteristic of the smartphone generation.
This smart garden has low energy lighting that can replicate sunlight and contains sensors that link back to the device when connected. It is designed to incorporate different types of environment – tropical, desert, even herb garden – and can be easily controlled by even the least green-fingered of users.
The design was developed for an exhibition titled 'Slow Tech – Designs for Digital Downtime' at trend agency Protein's exhibition space last month. The exhibition was curated by Henrietta Thompson of Wallpaper fame.