IGotAnEnvelope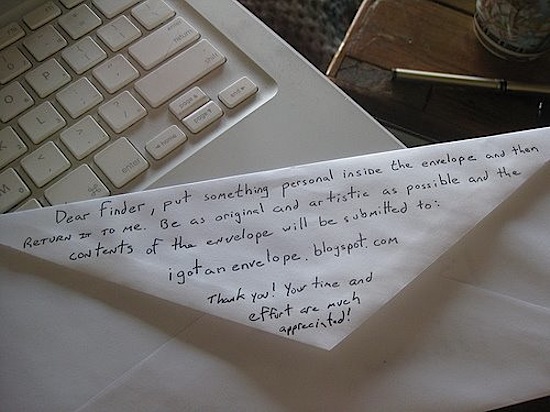 Remember PostSecret? That project that had people mailing their dirty little secrets all over the place to complete strangers? That was fun and all, but if you're more photographically-inclined, you'll probably get a bigger kick out of a similar new movement that launched called Igotanenvelope.
Here's how it works:
You put an envelope with a stamp and your address in a place where others will discover it. On the back of the envelope, write a note to the one who found it asking them to place a personal object inside and mail it to you (the exact phrasing is on their site). Then, when you receive the envelope in the mail, take photos of the mysterious objects inside and post them on the Igotanenvelope site.
While it seems most unknown souls are mailing off magazine or newspaper clippings or other small, written works, other items like puzzle pieces and thongs have also arrived in the mail. If you try this out, let us know what you get in return!