Yew Restaurant: Vancouver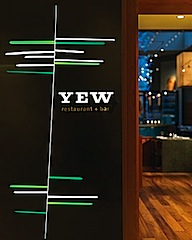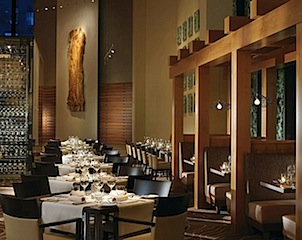 Vancouver is a fantastic city to explore and discover new restaurants "" especially if you like seafood as much as I do. The access to quality ingredients would make any food connoisseur drool. It certainly had me blissed the whole week I was there.
I didn't need to go far from my hotel for my first big dinner, and the experience at Yew Restaurant was certainly worth celebrating. After undergoing a massive renovation in the lobby of The Four Seasons ($4 million Canadian dollars for the restaurant alone, I'm told), a dramatic space was born, seating more than 128 guests. You're dazzled in this gorgeous space by its massive 40 foot ceilings, a floor to ceiling fireplace, and a communal table formed from a single piece of western maple.
The Executive Chef, Oliver Beckert launched a dinner menu he calls No Passport Required, a way to lead his guests on an enticing culinary journey to far away destinations — all without the need to leave their comfortable downtown Vancouver seats. April was "Japan" month (my favorite, of course) so I gave up the reins and went for it.
My Japanese adventure started with King Crab Soup, a Sake based broth with Daikon and Shiso. Very simple, light, and tasty. Large chunks of King Crab which tasted like they'd been lifted out of the sea a few hours earlier. Soup was followed by a Miso-Marinated Black Cod served with Asparagus, Edamame and a Kombu Broth — a classic. Dessert was a Pink Grapefruit Parfait with Ginger and Vanilla Consomme and Almond Milk Caviar.
My guest loved his dish from the daily menu"" the fresh wild Salmon, miso-broiled with Chinese Broccoli, Baby Shiitake Mushrooms, Squash and a Plum Puree. If you're not up for food from the sea, they offer Wild Boar, Venison, or a pasta dish for the vegetarians.
There's also an impressive wine selection with more than 150 bottles available by the glass"" (yes, one hundred and fifty) and they'll open nearly any selection you might want to sample.
Our Parfait was an ideal ending for us, but if you're feeling especially brave, finish off with a selection of their Homemade Ice Cream and Sorbet's "" Nutella, Carmel Honeycomb, S'more Ice Cream — and then call the cardiologist! Delicious.