Steven Smith Teamaker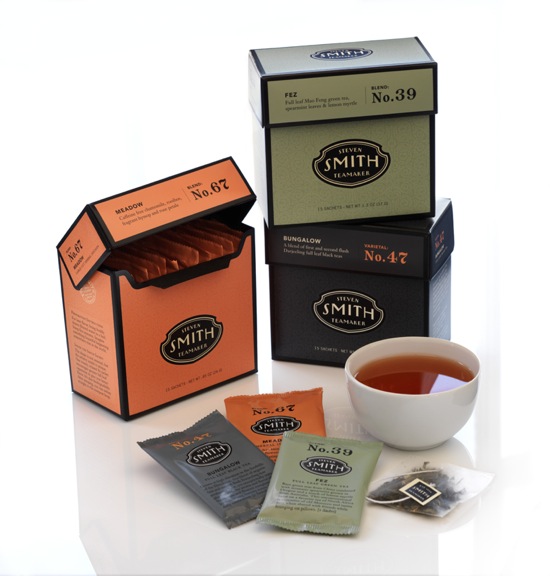 If you like tea, you've probably heard of Lipton or Bigelow and probably of Stash or Tazo, but not Steven Smith. That is ironic, because Steven Smith created (and subsequently sold) both Stash and Tazo. Then, he retired to France! But, being the serial entrepreneur he was, he couldn't just let things be. Instead, he returned to the state he loved most and opened a tea shop in Portland, Oregon. There, Steven Smith Teamaker produces about 35 different offerings ranging from single dedicated flavors like Yunnan to blends like Fez (green tea with spearmint) or your classic Chai.
I am a huge tea lover. I love coffee too but at work I brew at least two cups a day of tea. I was recently made aware of Smith's story and became fascinated. I learned that a new coffee shop in town was carrying his wares so I swung by after an early morning and bought a box of Fez. I split it with a friend and we both agreed – this was some good tea. Smith has a knack for blending but also packaging. The boxes hold 15 packets and inside each bag is a sachet. Teas need room to breath and unfurl while they brew. That's why I always use loose leaf tea and a tea basket. However, sometimes this is not practical. Sometimes, you need the convenience of a disposable, self-contained vessel. The Smith teabags are a light mesh material in a pillow (sometimes pyramid) shape. There's a a lot more volume for the tea to swirl around compared to your typical tea bag.
High end food/cooking stores like Williams-Sonoma and even clothing shops like Portland's own Blackbird are catching on; they are carrying his line of teas. This all comes at a price though. The teas do cost a premium, about $12 for a box of 15. However, that's always been Smith's style. When he introduced Tazo, he priced them at more than double what other brands were asking. If you'd pay for premium beer or coffee, why not tea? So, if you're a tea drinker, invest in a box. I'd recommend a variety box to start off with. I keep one at home for guests. It makes a great presentation and they'll be impressed when you present them with something other than that old package at the back of your pantry.