Limited-Edition Watchmen Coffee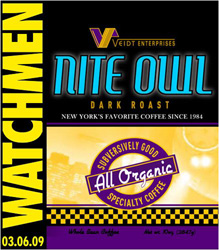 When you're watching over a city, it's imperative that you've got enough caffeine to get you through the night. So, put down the decaf and pick up a 10 oz. can of "Veidt Enterprise's Nite Owl Dark Roast" created by celebrity photographer Clay Enos's charitable coffee company, The Organic Coffee Cartel. Inspired by the coffee Dan and Laurie drink aboard the Night Owl, this limited-edition java blend is guaranteed to have you staring at the ceiling at 3 a.m — which, would be an ideal time for you to thumb through Watchmen Portraits, a book of photographs from Enos, the official photographer on the Watchmen set.
In addition, any customer who purchases a collectible blend before February 26 will have a chance win two tickets to the Los Angeles premiere and after-party for Watchmen from the OCC.