Get Away to Tahiti… For Free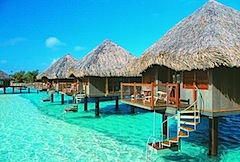 It's time to get the hell out of dodge. Yeah yeah, we know, we're in a recession. But, on the other hand…airfares and hotel rooms are the lowest they've been in ages. Still can't swing it? Ok, well…what are your thoughts on a free trip to Tahiti?
Tahiti Tourism just launched the Invest In Your Love contest and the prize is free airfare, inter-island transport, and six nights of deluxe accommodations on two of Tahiti's breathtakingly beautiful – and relatively secluded islands. To ener, fire up your video camera and create a convincing video of how a trip to the island nation could "help you invest in your love" and post it to YouTube via their site.
Six contests are being staged, but if you want to attempt to win the first, be sure to submit your entry by June 11th! We're so there it's not even funny.