Young Global Leaders: Dead Sea Summit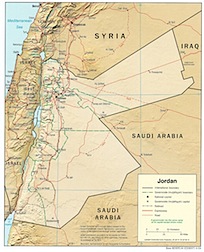 I thought everyone would enjoy a little bit of a travel update! Fresh back from Vancouver, I'm headed to the Middle East shortly for the Young Global Leaders Dead Sea Summit. Earlier this year I was nominated as a YGL (press release here) alongside some pretty impressive individuals from all sectors, geographies and walks of life. Humbling to say the least. Having been to Davos and some of the other WEF events, I think I have a pretty good idea of what to expect"" but am looking forward to this opportunity to meet new people, have stimulating conversations and see another part of the world, big time.
So, what do you do in Amman, Jordan? Float on my back in the salty Dead Sea? Not so sure. I'll be making a day trip to Petra but otherwise my plate is pretty full with the pre-arranged sessions and activities. Anything bloggable and on the record I'll be sure to share. Neighbored by Syria, Iraq, Saudi Arabia and Israel, I'm naturally looking into a visit to some of the surrounding countries if time (and security) permit. What should I do?