Tobira Onsen Myojinkan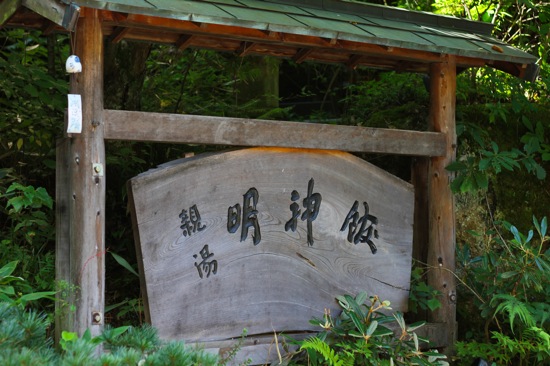 Nestled away above Matusumoto city in the Nagano Prefecture of Japan, Tobira Onsen Myojinkan, or Myojinkan for short is one of the most unique Ryokan experiences I've had in Japan.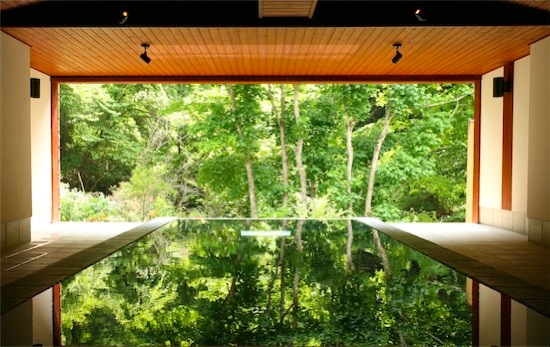 Sitting high up in the "Alps of Japan" as many call them, the Nagano mountains provide a cooler climate for summer Onsen visits, and gorgeous scenery out of every window on the entire property– not to mention one of the most gorgeous settings and views for an bath I've ever seen.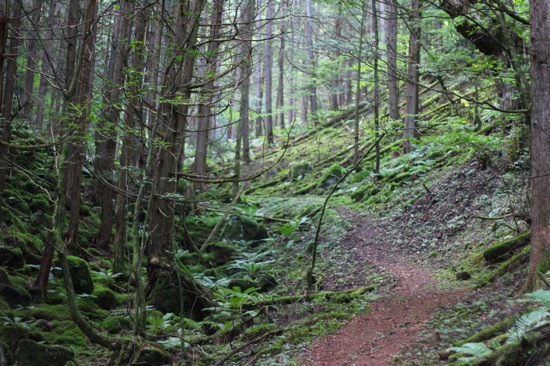 I took this picture above hiking through the deep and cool forests that surround the Ryokan. The tall pines and moss made for such a peaceful place to reflect.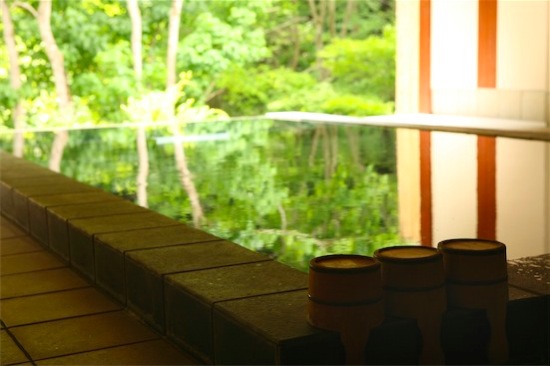 One unique attribute of Myojinkan is the variety of Onsen experiences you can experience during your stay. Some rooms have a private Onsen, but it wouldn't be right if you didn't visit the numerous different bath types throughout the property. My favorite bath by far was the unusual Standing Bath pictured throughout this article in a couple of different images. This bath allows you to stand submerged in hot healing water and view the landscape out of an almost postcard-like windowframe. From this vantage point you could hear the rushing water of the river below, smell the forest which was almost close enough to touch, and fully relax. Total bliss.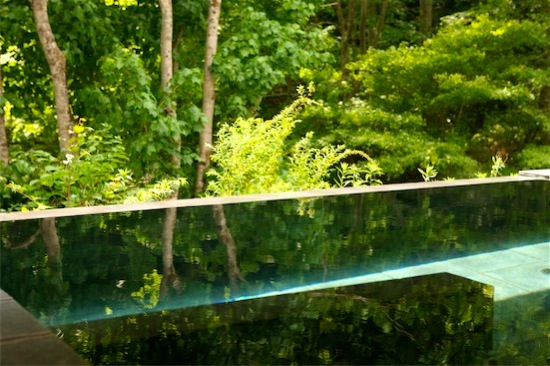 Another beautiful shot of the standing bath, with its clear as glass water. Piping hot.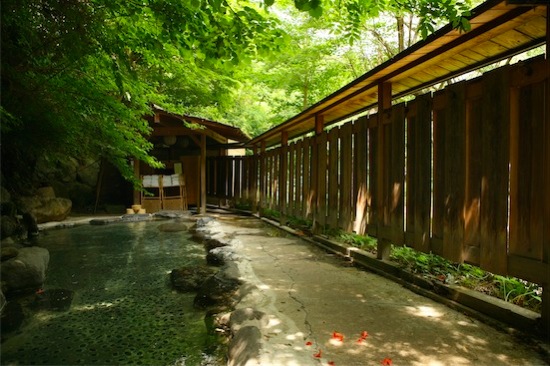 The property shares boundaries with Japanese National Forest land– which I made sure to hike in and around. This forest-as-a-neighbor creates even cleaner water and air surrounding the property. Pictured above is the fully outdoor bath, great for star or moon gazing.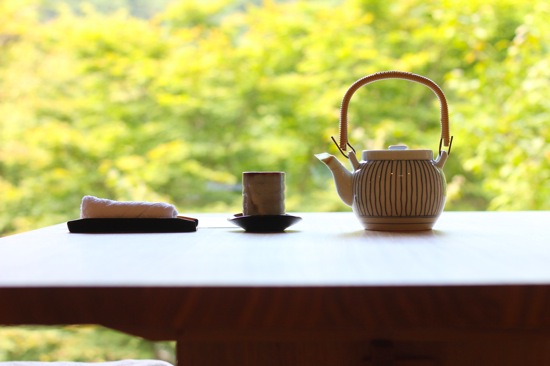 Out of every window beautiful colors!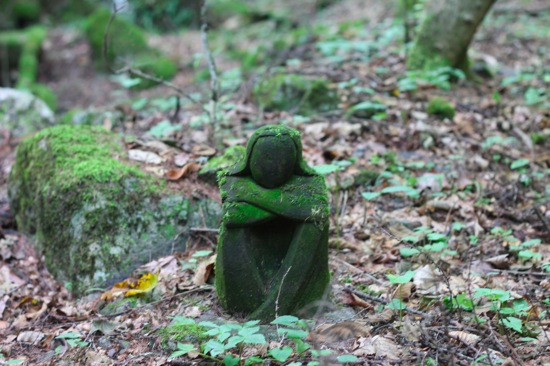 A small figurine I found walking through the woods behind the Ryokan.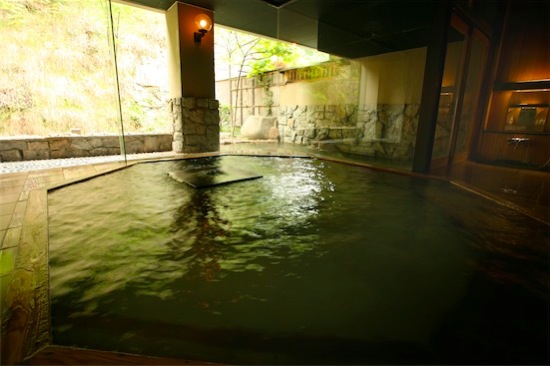 Another bath, this time an indoor modern onsen.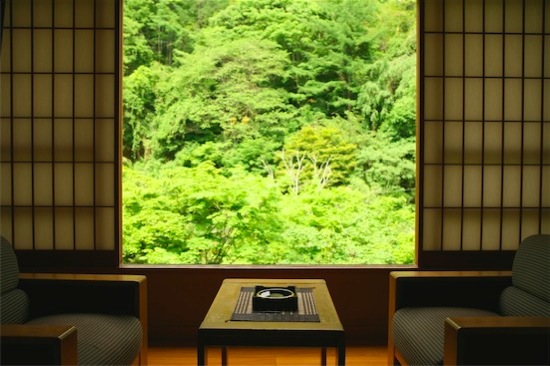 The living room inside a standard guest room.  Good for a cup of tea, or hours reading a book.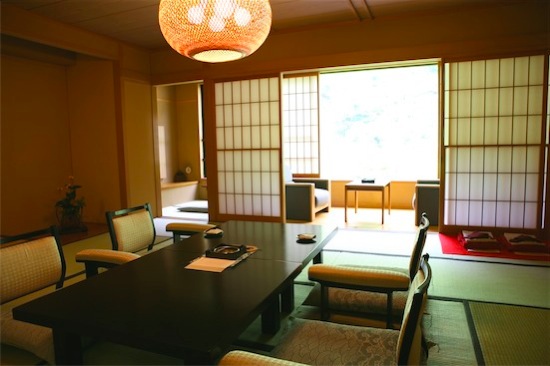 Like other traditional Japanese Ryokan's, you sleep on a simple futon over tatami mats.  My favorite! However if you prefer a Western style bed, they offer that as well.
Cherry Blossom season right up against the cedar baths. Magical.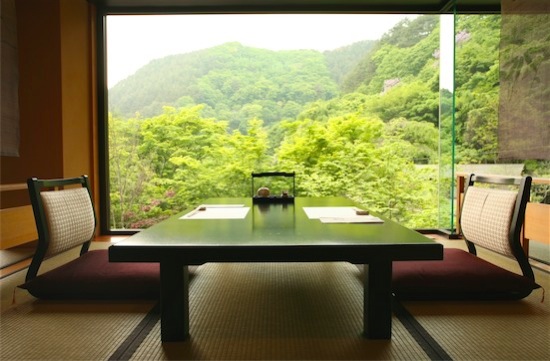 How about that view during dinner?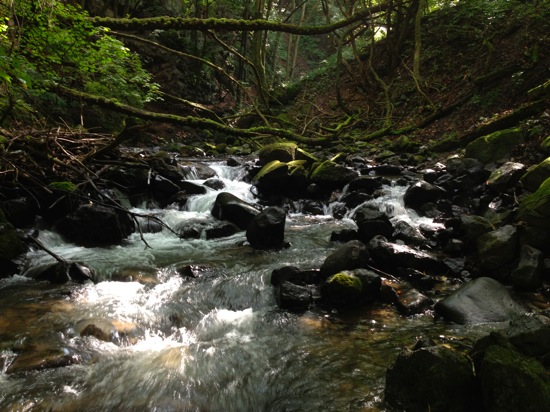 A picture I took of the rushing water under the Ryokan. It was so clean and clear. No wonder the baths felt so cleansing.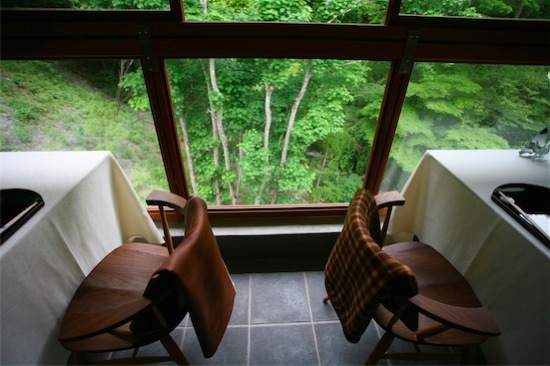 Owned by the Saito family for generations, this 45 room Royokan did one thing better than any Ryokan I have ever visited, and it's an important one: The food was stunning. Generally, a ryokan's food is simply traditional Japanese Kaiseki served in your room. While this is always delicious, after a meal or two it starts to feel a bit repetitive. Myojinkan however boasts three different kitchens serving Kaiseki, Modern Japanese and an Organic Macrobiotic French. All are served in their own incredible spaces (rather than in your own room), by master chefs Mr. Masahiro Tanabe (Executive Chef of the French Macrobiotic Cuisine) and Mr. Manabu Kanda (Japanese Cuisine, Modern and Kaiseki).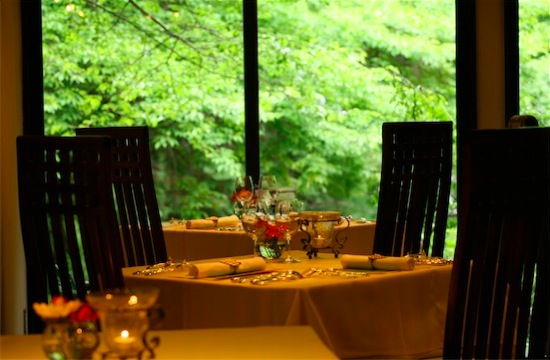 Taking food photos was a lot more difficult given the darker setting of the restaurants, but I did my best where I could below.
The Kaiseki style meal started with a small glass of wild grape wine– no doubt from a local farm only miles (or less) from Myojinkan. Appetizers followed, a jellied seasonal vegetable concoction with young corn, lotus root, green soybeans, small onions, tomatoes, prawn, graded pumpkin and egg yolk. An interesting and light star to what turned out to be a total feast. (Pictured below)
Other assorted seasonal appetizers included an eel sushi wrapped in bamboo leaves, amber egg, corned bean curd, asparagus, octopus and pot steamed cold egg custard with boiled sweet potato and lemon sauce.
For soup, I enjoyed a delicate mix of sea eel, been curd, mitsuba, Japanese citrus and plum pulp from an umeboshi plum. On my menu, I scribbled the words 'what an inspiration', as I had never tasted or tried anything like this in my life.
Raw fish was served, Shinsu salmon, carp with yam, prawn and squid.
That evenings grilled dish was salted and grilled sweet fish (caught in the river just below the property), followed by a seasonal vegetable stew of mushrooms including winter melon, taro stemp, gumbo, small potato, zucchini and local green onions.  Sweet fish is so popular they actually even offer bait, tackle and rods to guests if you are up for the sport of catching your own dinner!
As with every Kaiseki meal, we ended with rice, miso soup and japanese pickles. The rice was incredible– and included sixteen kinds of grain!
Desert (with hardly any room left in my stomach) was tofu tube cake and rice flour dumplings, insides included bean jam and pieces of fruit.
What follows are a selection of some of my favorite dishes from each meal I experienced  over three nights at Myojinkan.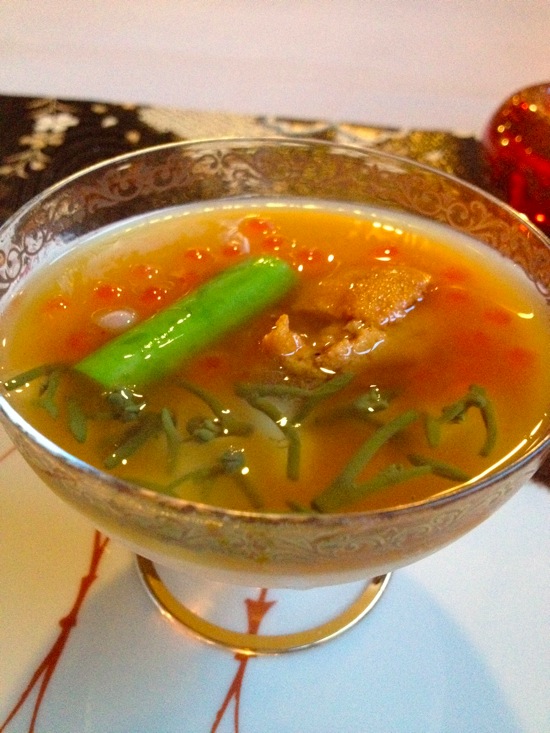 Uni Ikura in broth from the Modern Japanese menu.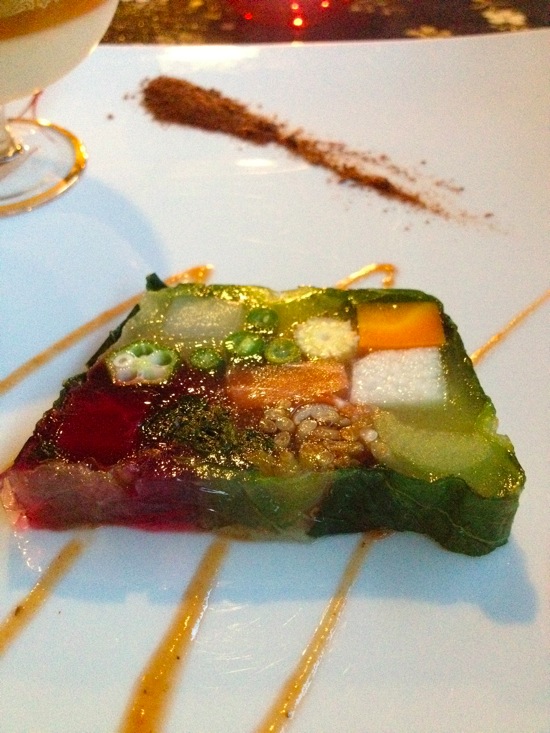 Delicious!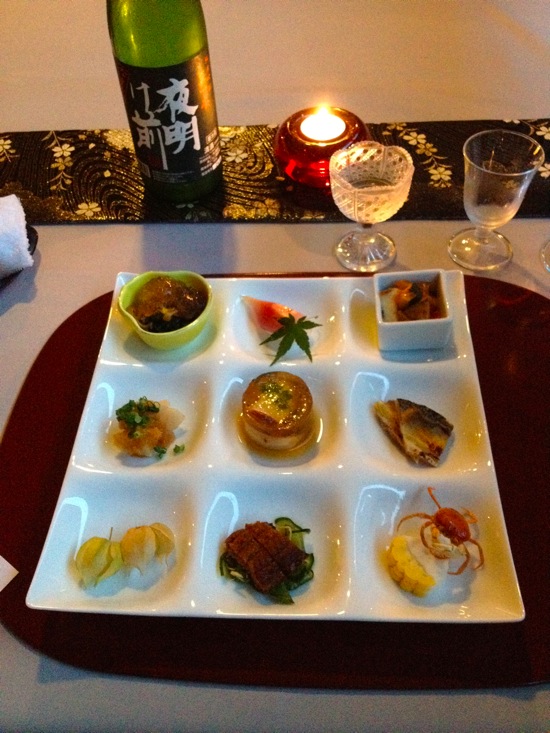 Tastes of different local flavors at Modern Japanese.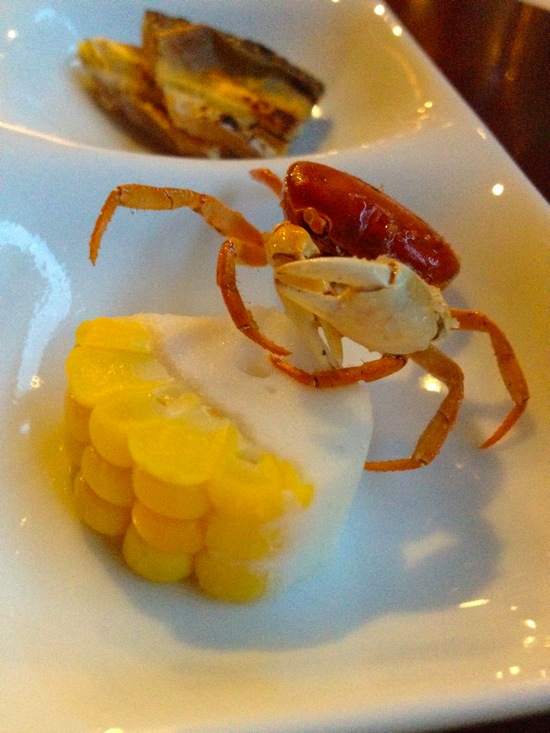 Flash fried river crab over local corn.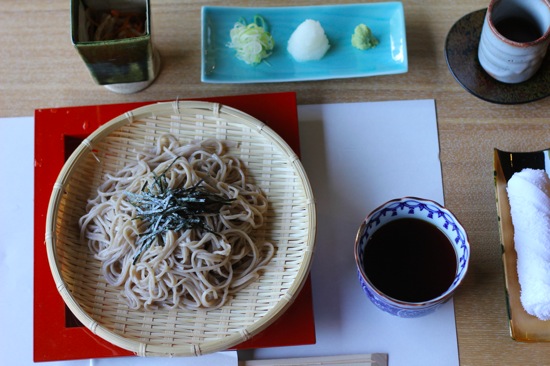 Most Ryokan's kick you out during the lunch hour, telling you to basically 'go fend for yourself' at lunch time.  Because Myojinkan is 30 minutes from Matsumoto city, and there are literally no possible places to walk to, they offer a basic soba or udon lunch set if you decide to stay in for the day.
It's worth staying in for the day, I promise.
This local Nagano soba was one of the most delicious cold soba lunches I've ever had.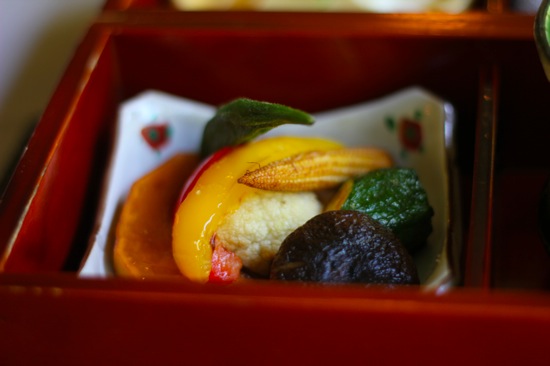 Fresh cooked squash, mushrooms, baby corn.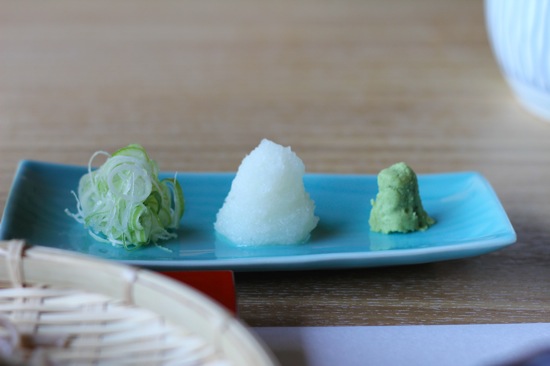 Local wasabi, daikon and scallion (every cold soba lovers perfect compliment).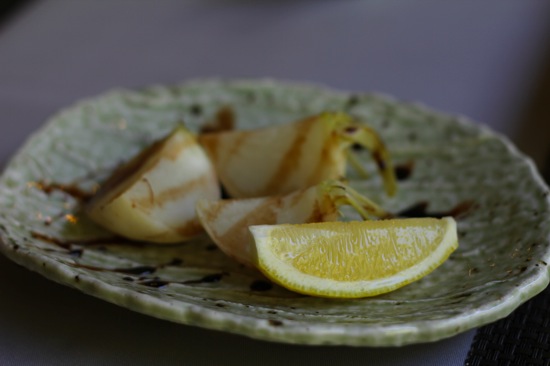 Fresh daikon radish cut, grilled and served with fresh lemon.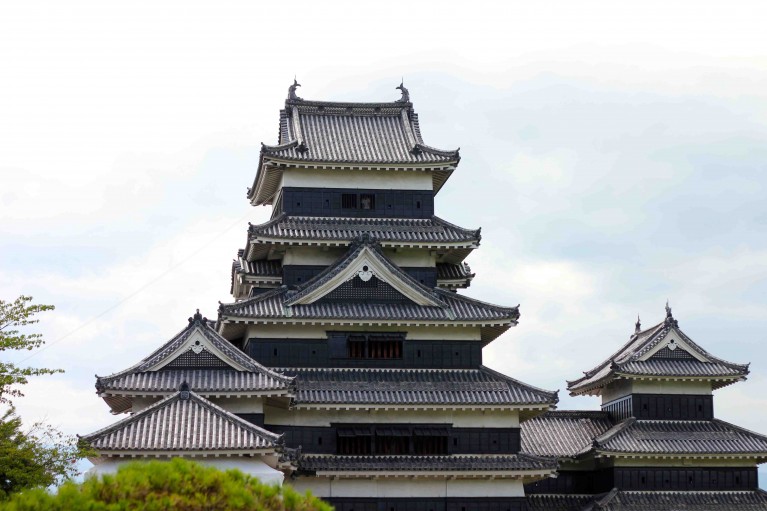 Finally, when you visit Myojinkan, be sure to spend an afternoon in Matsumoto and visit Matsumoto Castle, some of the local Apple or Grape farms, and try the local Nagano grown soba noodles. I fell in love with the local artisan cuisine here and can't wait to visit again.
Myojinkan is 2.5 hours by train from Tokyo. It's best to arrange transportation directly with the front desk at the Ryokan. They run a daily shuttle service to and from Matsumoto station or surrounding airports.
It's easy to book Myojinkan through our friends at The Ryokan Collection. Tell them we sent you and enjoy!