Swap-O-Matic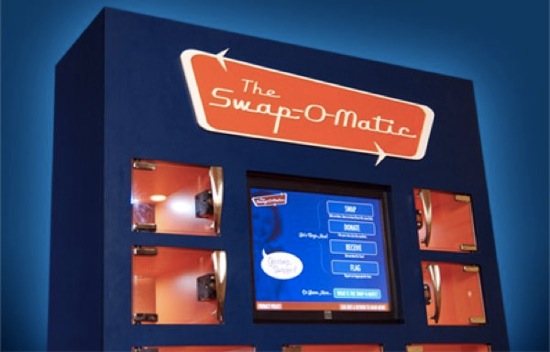 This brilliant experiment was created by Parsons School of Design student Lina Fenequito.
The Swap-O-Matic vending machine is designed for user to give, take, or swap anything that fits inside the compartments. People have traded items like original art, poems, clothing, metro cards, etc
The Swap-O-Matic recognizes that there is a thrill in getting things. The vending machine satisfies our desires for instant gratification, but it co-ops it and re-appropriates it to something that is a more sustainable method of acquisition, which is through swapping and trading," said Fenequito…
To use the machine, one simply has to enter their e-mail address on the screen and choose whether they would like to donate, receive, or swap an item. Since none of the items in the machine is assigned a value, all item transactions work on a credit system. As a new user, you're given three credits to begin with. A credit is earned each time you donate an item and it costs one credit to receive something. Swapping an item in the machine for something that you've brought doesn't require any credits.

Feels totally in the zeitgeist right now and sparks some very powerful and interesting conversation about sharing and consumerism. Via BB