Zeptonn
Jan Willem Wennekes, also known as Stinger, crafts a killer monster. Well, "killer" in its most docile, endearing sense — because the creatures of this Netherlands-based designer have always had more success drawing aww's than arghh's!
As founder of Zeptonn Lab, Stinger cranks out his unique style of design for clients like PlayStation, Popcling, and Threadless, as well as a solid variety of art, design, and online publications. In between those projects, this eco-conscious designer spends his time creating some of the best books you've ever laid claws on, including one of our all-time favorites, Stingermania.
Just in time for the release of his newest book, Black & White Freedrawings (site coming soon), we chatted with Stinger about his work, his education, and how he's using both to make his world a pretty wonderful place.
Joshspear.com: Zeptonn started as a skate apparel company, am I right? Can you tell us about the history of the company, where it began as compared to where it is now?
Stinger: Hi, thanks for having me! And yes, that's true. I can see that I mainly got into the T-shirt area because I liked to design prints so much, but at the time I was definitely involved with the skateboarding scene. After attracting a few known skaters here in the Netherlands, the brand quickly got picked up by boardshops all over the country. While it was great to achieve that, it became clear to me after a while that the actual "business" of operating a skate apparel company wasn't it for me. You're very busy with organizing the production, visiting the stores, handling sales, etc., and you only get to design prints a few times a year. When I came to the conclusion that design and illustration were what I was after, I decided to turn things around and focus on those things exclusively. It was quite a change, but absolutely worthwhile. I learned a lot about screenprinting and T-shirts; knowledge I still use today.
JS: You studied Philosophy and Artificial Intelligence before entering into illustrative design. That seems like an unusual path — how did you come to follow it?

S: It's probably not the most likely path to follow — and it might not seem like the quickest way to get to the point where I am now — but, to me, it has all been very valuable. I don't think I would be doing things the way I'm doing today if not for everything that has happened in my life so far. I've studied Artificial Intelligence (Master's degree) and Philosophy (Research Master's degree). Both studies were very interesting and I have no regrets pursuing those interests. The philosophy of Wittgenstein is something I discovered while studying Artificial Intelligence, and I found it so immensely interesting and convincing that I decided to study philosophy to investigate it more thoroughly. When I finished though, I really had the feeling that I had grasped what I needed, so the urge to continue working on those subjects went away. I came to the point where I had to choose between pursuing a job based on my degrees, or to pursue a more artistic career — something that had always been lurking at the back of my mind. I had been busy with design and illustration, and decided that I needed to try out the creative life. I just had to know if it was something for me or not. Turned out it really was — I feel happy about it every day!
JS: We have a few things in common — first and foremost being a love for monsters and peanut butter. What else are you in to?
S: I like to go snowboarding and surfing if I get the chance — even though that's mostly only a few weeks a year. We don't have any mountains in the Netherlands so you have to travel abroad to go snowboarding. Like many artists, music also plays an important role in my daily life, so naturally I also enjoy visiting shows and concerts.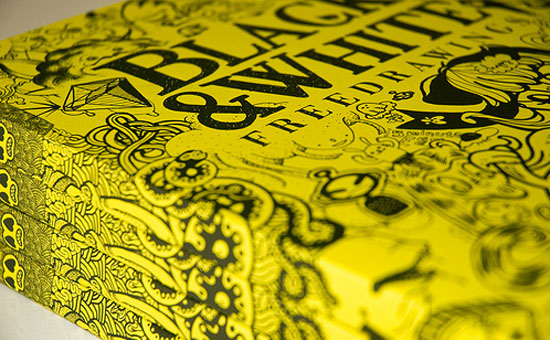 JS: You take an environmentally responsible approach to design. As a graphic designer, how do you feel you can contribute to the e-conscious movement?
S: It's very good to see that people are noticing this. Trying to be as eco-friendly as possible is something I think is very important for our generation. I feel that not only do we have the responsibility of taking care of our environment (and hence of ourselves), but that we should aim to live in harmony with the world. And I mean that in a literal sense, not in a spiritual sense; we can't just take whatever we need, use it, destroy it and toss it away. Every being in nature is part of its cycles, and we have to change our ways to match or mimic those cycles. It seems that sometimes people forget that we, as humans, are just one part of a bigger whole: the ecosystem we all live in.
With a lot of interest and pleasure I've followed the recent rise of "Cradle to Cradle," a new way of thinking by William McDonough and Michael Braungart. It goes beyond concepts such as environmentally friendly or sustainable, and tries to look at a way of living where things aren't "less bad" for the world, but actually "good." To give an example: why try to reduce the amount of CO2 a car produces — a car that in effect is then less bad for the environment, but still bad — if you can make a car that actually produces good clean air? Why try to think of ways to rinse products of harmful chemicals if you might not even need those chemicals in your product at all? They try to think differently about waste: what if the waste of one product could be the supplies of the next? Instead of using up all our natural sources, we'd be continuously making new resources when we throw things away!
I feel that designers have the responsibility to take such things into consideration. It shouldn't be an "extra option" to print something eco-friendly (or better yet, Cradle to Cradle), it should be the standard. I'm looking forward to a world in which everything that is being produced takes such considerations into account.
JS: I have your first book, Stingermania, on a bookshelf in my living room. Its funny, because every time I have guests over, someone always picks it up and is completely thrilled by it. Monsters are so universally appealing — is this part of the reason you like to use them as a subject of your designs?
S: That's really wonderful to hear, thanks! With my art I am interested in contrasts. The contrast between simplicity and complexity, or the contrast between cute and repulsive. I find it interesting if people are both attracted and repelled at the same time. For me, monsters and creatures are a way to bring about those contrasts. For example, most creatures and elements I use are based on simplified forms, whereas the total illustration can sometimes look quite complex. Such simple forms can be quite challenging: the slightest change in a line can make a great difference. Of course, literal contrast in colors is also something I like to use in my work — I have a profound love for bright, but not completely saturated colors, that I hope people recognize in my work.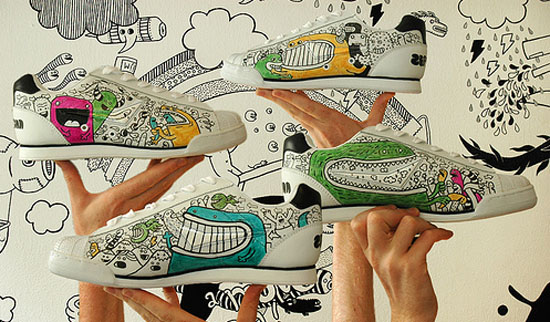 Additionally, monsters and creatures have the ability to express emotions. Emotions are such an important aspect of human life and they are universally appealing. Not that I'm trying to make my art universal, (I don't think it is) but it's probably a force behind it.
JS: You say you pull your inspiration from street art, boardsports, philosophy and music. What is something from each of those areas that is inspiring you right now?
S: Street art is something that is around you at all times when you are in an urban environment. It might take a different mindset, or way of looking, to see it, but there's always something there. I find it immensely inspiring to see people interacting with their environment, making (political) statements, and putting a lot of time into getting their message out there. Granted, not all street-art is great or good, but there are fantastic people out there. A lot of times street-art is on the edge of where art is going. You might even see them as a sort of an avant garde movement. As for boardsports, it's probably the freedom and thrill that I like so much. I'm not sure how that translates to my art itself, but it definitely relates to my decision to work as a freelancer — to be free in that sense. Philosophy might even be further off, but I think it relates more to my style of thinking and working in general than to the subject matter of my art itself.
JS: You're about to release a new book, Black & White Freedrawings. Is this related to the Vormator project, or was that a separate endeavor?
S: No, the two projects are unrelated. The Vormator project is something that was developed together with a good friend who is co-owner of Booreiland, a creative platform. The project was a study into the role of limitations for design. How far can designers take their style when they are very limited, and will they be able to rise above the restrictions of the graphic elements and rules? We decided to turn this into a contest organized by Booreiland and Zeptonn with the aim of putting the best submissions in a book, which was a huge success. We got close to 600 submissions from all over the world. We're currently working together with a big Dutch publisher to get the book on the market, which will hopefully be at the end of this year.
JS: Can you tell us about the new book?
S: The Black & White Freedrawings book is a project that I started up myself as an investigation into the phenomenon of collaboration. I find it hard to summarize its content but here we go: for the book, over 40 international artists were invited to collaborate on a drawing together with me. I have labeled these drawings "freedrawings" because they don't pose any restrictions. There's no theme, no guidelines, no client looking in and asking for changes. At the same time, these drawings are the final artwork so there is definitely some planning and organizing involved. In total, the book is 132 pages, featuring work from over 40 international artists giving you a sneak peak of their sketches and workspaces.
Furthermore, the book has been produced in an eco-friendly manner, using a waterless printing process that reduces environmental impact. Computer-to-plate technology and silicon plates eliminate the use of chemicals and water, and vegetable-based inks further reduce resource use and pollution. The paper used is FSC certified 100% recycled, and is produced to be climate neutral. I'm really hoping to show that you can make a book with art in an eco-friendly fashion without having to give up on quality. In fact, the waterless printing process has a better resolution than conventional printing!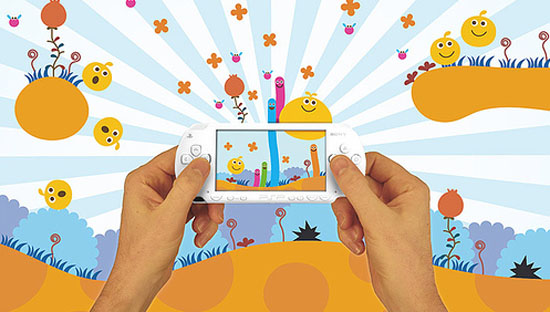 JS: Aside from your new book, what else have you been working on lately?
S: I've been working on loads of illustrations — one project in particular was a lot of fun. I got to design a boot for the Dutch Greenpeace summer campaign! There are thousands of pairs being produced with my design on them, which quite a thrill. They should be coming out in about two months from now!
JS: You're so young — what do you hope to get into as your career progresses?

S: Ha, thanks! I don't even see myself as being so young anymore. For now, I'm quite content with where things are going. I get to do a lot of different things, ranging from illustration, graphic design and art, to editorial design and even art direction. In the future I think I'd like to pursue the latter more, but I'm also still excited every time an illustration of mine goes to print — whether it is for a T-shirt, a magazine, or something peculiar like a boot!