Start Wearing Purple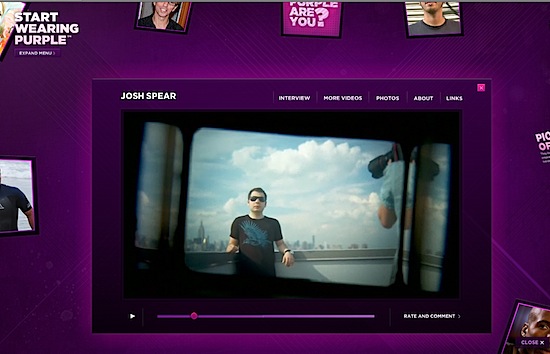 A few months ago a film crew, photographer, assistants of all types and literally dozens of people with color meters, cameras and lights descended on my NYC office and later at my home to shoot a spot and interview for the Yahoo! Start Wearing Purple campaign. A unique experience to say the least, and one of the most exhausting days of my life. Lights, camera, action. Not my world, but interesting to be a part of for a day.
The interview and photos turned out pretty well I think– but it's always weird seeing yourself on screen and wondering what was going through your head, and how they chopped and edited you together in that way. For people that don't know me very well, it might offer some better insight into where I work and what I do all day.
The campaign is what they refer to as a "call-to-action' by Yahoo! for people to live life as an individual, and with an exclamation point. The campaign emphasizes (despite any economic situation) their roots through the color and spirit of purple — it means individuality, imagination and innovation.
In the Pioneers of Purple section, I'm humbled to be featured alongside big wave rider (and absolute bad ass) Jeff Clark, Kiva founder Jessica Flannery, music man Nic Harcourt, hit maker Larry Jackson, and site staple Simone Legno of Tokidoki.
The program features four main components. Technology (a set of pretty amazing bikes that take photos every 45 seconds around the world and stream them direct to Flickr), personalities (the pioneers of purple), some products, and the improvisation work done by Charlie Todd of Improv everywhere. There's a ton of content over there so I encourage you to check it out— but be nice.