SPRFKR and MSTRKRFT $1000 Prize Pack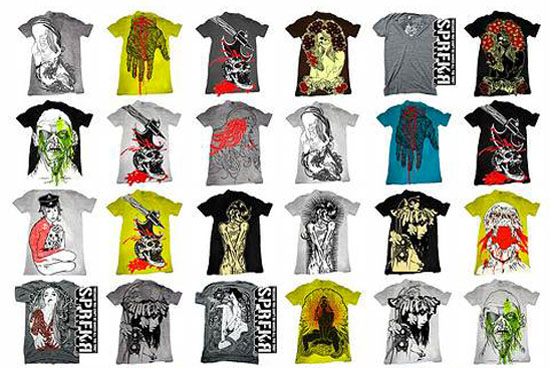 We've got some dope stuff from two cutting edge artists, and we want to give it to you.
SPRFKR and MSTRKRFT are both killing it in their respective fields. California-based designer and artist SPRFKR (a.k.a. Marco Rached) converted his love of comics and doodling into some of the most colorful, visually aggressive, and envelope-pushing T-shirt designs around. His first-ever solo show, "Mujeres y Flores", is opening April 4 at the Con Safos Gallery in Santa Ana, California.
Meanwhile, Canadian super-duo MSTRKRFT are at the top of their game, mixing power-electro with dance-punk and house. Their latest album, Fist of God dropped March 17. Following their recent crowdsurf-inducing set at SXSW, MSTRKRFT is setting out on tour this summer — including a stop off at Coachella. You can get a taste for what their legendary live sets are like with the new vid for the album's first track, "Bounce" featuring N.O.R.E and Isis.
So besides killer art and a sick new album, what's in it for you? We've got two prize sets to hand out. Leave a comment below and we'll randomly pick two lucky art and music lovers. The first will get an original SPRFKR work from the current show (valued at $1000), their choice of any SPRFKR tee, and the new MSTRKRFT Fist of God CD. The second commenter gets their choice of SPRFKR tee and the "Fist of God" CD. Now get typing"¦