SpearTalks: Richard Haines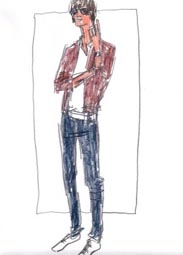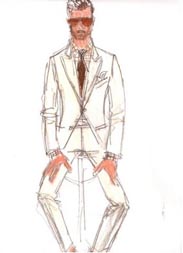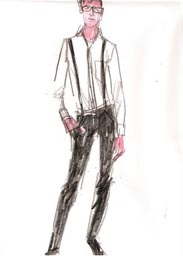 Richard Haines is designerman, a fashion designer and blogger whose sketches of NYC style cause as many double takes as the people who inspire them. A brightly talented illustrator with a taste for the streets, Richard strolls New York City with pencils in hand, discovering the trends of today and tomorrow in a way all his own.
After a few embarrassingly emotional fashion experiences on What I Saw Today, Richard's aforementioned, personality-packed blog, we decided that a first hand chat was in order. Read on as we talk style, substance, and the visual ways of keeping those words together.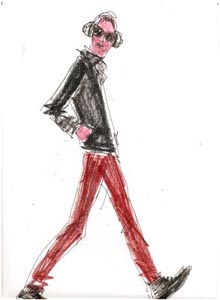 Joshspear.com: How long have you been keeping track of men's style like this, and when did you decide to turn the sketches into a blog?
Robert Haines: I'm a very visual person, so I'm always looking to see what people are wearing. It's one reason why I love New York so much – there's always something new to look at. I've been a menswear designer for most of my career, so my eye is trained to spot interesting stuff: fabric, details, color. As a kid I always sketched and in school I studied fine arts. The format of the blog facilitated the combination of my design and illustration abilities in a journal format.
The blog started as a way to market myself – as a way to inform people about my unique point of view and my ability to stay aware of what's happening. I felt like I needed to 'rebrand' myself, and the blog is a perfect forum for that – it's easy, instant and free!
JS: Your sketches have so much personality – are the facial features of your subjects true to form, or do you give them what they need to make the clothing pop?

RH: Love that you recognize the features!
It's really a combination of things. I put the sketches together in different ways. Sometimes I have someone pose, which is ideal. Other times I get a quick shot of the guy on the street with my cell phone. Other times I'll do a quick sketch in a notebook, then go home and re-sketch it.
Unless it's a model posing right in front of me, I don't really think of the expression. It just kind of comes out of the pen or pencil. I've always been able to get the gesture of how a model feels – how they carry themselves, how the clothing changes the stance. I think that's a lot of the personality that people relate to.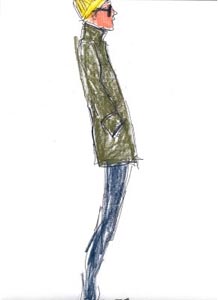 JS: Since fashion was fashion, designers have been finding their inspiration in the streets, using the styles and personalities of everyday people to guide their creativity. It's really interesting for me to see this firsthand through your sketches– the transition from the street to the catwalk. Would you say that fashion primarily trickles up from the streets into high fashion, or down from high fashion to the streets?
RH: I think the trickle runs both ways (unlike the politics of the past 8 years where it was supposed to trickle down)!
Not to get all historical, but until the early 60s fashion was for the very rich and Haute Couture set the standards for fashion. Department stores would go to Paris, buy Couture dresses and knock them off at cheaper prices for their stores.
It was Yves Saint Laurent's 'Left Bank' collection that shook things up. He took ideas from young hipsters and made them luxe. It was that, and the 'Youth Quake' and mini skirts that turned the whole system upside down, and the concept of 'ready to wear', and Sportswear took hold.
Jeez I forgot the question!
I'd say now that fashion is more inspired from the streets. Designers travel the world to see what 'in the air' and where things are happening.
What I love about New York is that block-by-block a unique story is being told, depending on the neighborhood!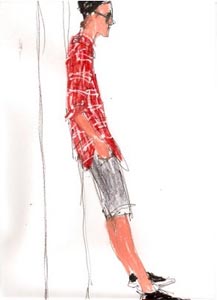 JS: Tell me a little bit about the places you've worked and the designers you've worked with….
RH: I've worked with some amazing people and for some of the best 'houses' in the US. My first 'big' job was at Bill Blass. That was like stepping into a Noel Coward play; really old school but fascinating. It's almost impossible to run a company that way now – producing small amounts of clothing to a very select clientele.
After that I worked with Perry Ellis – this was when he was alive and the collection was spectacular. Kind of redefined what American Sportswear was. It was exciting because so many talented people passed thru there– Isaac Mizrahi, Tom Ford, Tracy Reese and Marc Jacobs are just a few. I also worked at Calvin Klein– this was when he was really hitting his stride with fragrances, and watching him in action as he created the TV and print ads was really inspiring. He was a genius at making something simple (like a pair of 5 pocket jeans) seem incredibly sexy (enter Kate Moss and Marky Mark ad campaigns).
I wish I had kept a journal of the personalities I have worked with and come across in the fashion business. It really is a world unto it's own, teaming with insecurities and frailties (as well as enormous talent). And I have to say, I am so happy finding my stride illustrating. It's given me the chance to reinvent myself, which is pretty amazing…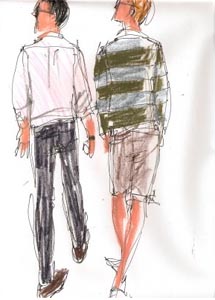 JS: So it seems like you've primarily worked in men's fashion – is that your main passion, or do you flirt with the women's side as well?
RH: I've designed women's wear as well. I took a job once designing cocktail dresses at Bill Blass and that kind of did me in for women's design (a job I never should have taken)! I love looking at well-designed women's clothes. When I look at a beautifully made garment or accessory I just flip. I recently looked at some Lanvin women's clothes in a store and the weight of the fabric and the construction was beyond.
But I really love the world of menswear, and naturally I can easily relate to the 'gestures' of it. I have archives of men's fashion magazines of the 50's – American 'gentry' and French 'Adam,' and everytime I look at them I find something new.
JS: Like most creative endeavors, fashion is always in a constant state of reinvention. Are there some trends you hope to never see again, and some that you could handle seeing around for the rest of your life?
RH: Never say never in fashion. Something comes out of the blue and it looks right again (leggings on women). I can honestly say I don't ever think I'll put on a jumpsuit in my lifetime…well, I say that as of today!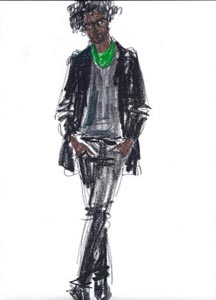 JS: So now that you have all of this experience under your belt, and a great website on top of it, do you see yourself ever starting a line of your own?
RH: I did a line of my own in a small way. It was self financed, which was my first big mistake. Kids out there: If you start a business, don't spend a dime of your own money!
By the time I got to the point of doing it (a line of shirts and ties), I didn't have the passion for it that I thought I would – and you have to live and breath it to sustain it. I'm actually so much happier sketching and doing the blog – it's me, some pencils, and a scanner– no fit problems or late fabric deliveries! And the blog is generating freelance illustration work, which is thrilling.
Not to say I wouldn't love to consult for a design company, but in terms of manufacturing– as that famous Alaskan said "Thanks, but no thanks."
JS: Not to play favorites… but which NYC neighborhoods do you typically see the most daring // classic // trendsetting fashion in?
RH: That's a tough call. I love every square foot of this city.
I live right at Union Square so I see a cross of all downtown – the NYU and Parsons kids, hipsters getting off the L train, people on their way to Soho, the village and the lower east side. It's become a cross roads of all downtown– I call the area the Times Square for the hip. I can honestly say I'm hard pressed above 23rd street for inspiration, but sometimes I go to 57th and 5th and I'm awed by how well groomed and chic people in that neck of the woods are. Part of the beauty of living here is the element of the surprise.
JS: So how many of these sketches would you estimate you have?
RH: Many, many sketches. Everything from the blog and then some. And I think they would look lovely framed in people's homes (hint).
JS: Can you please turn them into a book one day soon?
RH: It's funny you mention that. I would love to do that – and it's my next goal. It would be a great way to showcase what I've seen and done, but it would also be my own love letter to New York and fashion– like giving the city a big hug and saying, "thanks!."