Six Senses Zighy Bay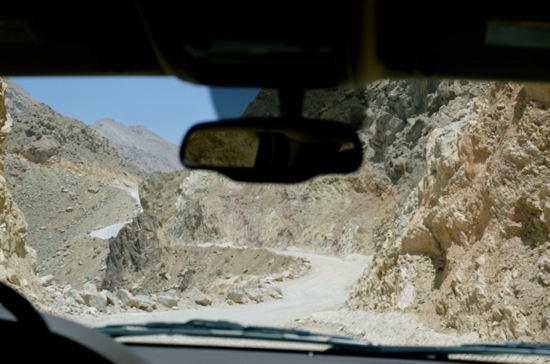 On my last trip to Dubai, I had a few free days to check out some neighboring countries.  Top of my list this trip was Oman, mostly because I had heard such great things about their rich and interesting culture, but also because I was hearing rave reviews of Zighy Bay– a Six Senses resort that's a paradise and oasis as far from civilization (and the malls of Dubai) as you can get.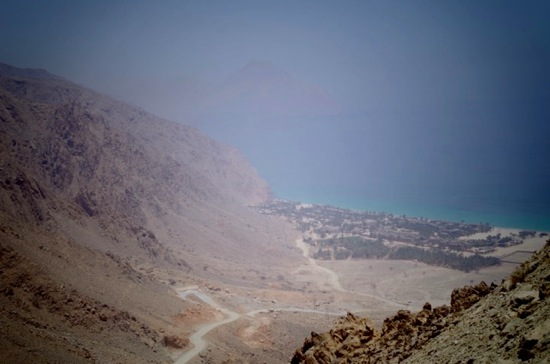 Getting to Oman was simple– about 120 minute drive from Dubai International Airport– and Zighy Bay was just over the border.  Getting to Zighy Bay was a little bit more dramatic than the normal resort arrival.  The property is placed smack dab against the side of dramatic rock mountains– mountains that look a lot more like the Fjords of Norway than anything else. Guests can drive down a couple dozen switch backs (thankfully it never snows here), or take a running jump and arrive by Paraglider (video), no kidding.   There's also a 15 minute boat transfer available from a neighboring town if you're in a rush.
I'm told until recently Paragliding or boat was the only way to get to the resort, as the road construction is very new.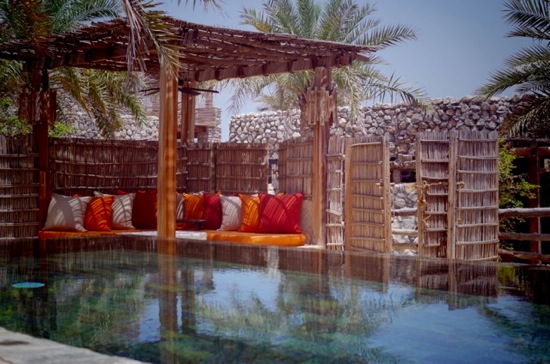 Accommodations at Zighy Bay are dreamy.  We had a one bedroom Pool Villa that had a traditional outdoor Majlis seating area in the wooden Oman-style, right by our own private pool. The decoration was simple, sophisticated and frankly very non-assuming. After so much glitz of neighboring Dubai it was refreshing to be somewhere simple and almost rustic.  Stone floors, very few lights, wood, natural materials and so on.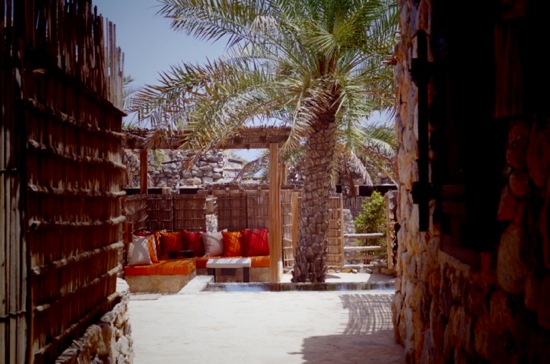 The view into our home away from home.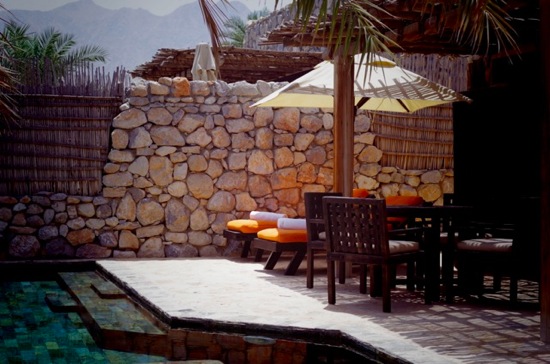 Our lounge chairs by the pool.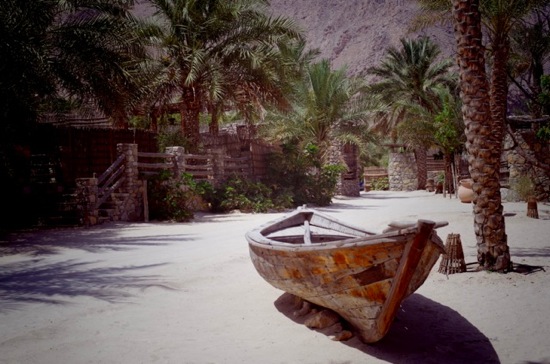 The entire resort was 'barefoot friendly' as they say– and aside from the hot sand, it was totally doable.  Everything is accessible on foot and it's perfectly acceptable to show up for dinner without shoes.  Who doesn't love that?  We also made our way around on bicycles quite a bit– and they're outfitted with pedal covers to make it barefoot-comfortable as well!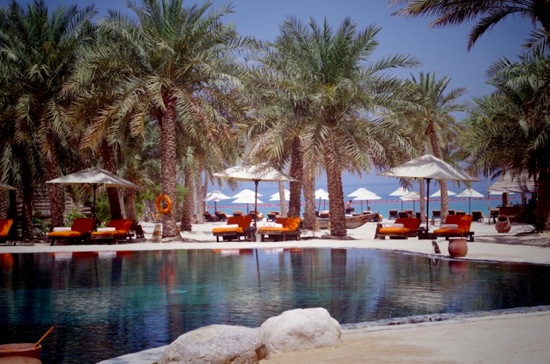 The beach in the background, and public pool right next to it.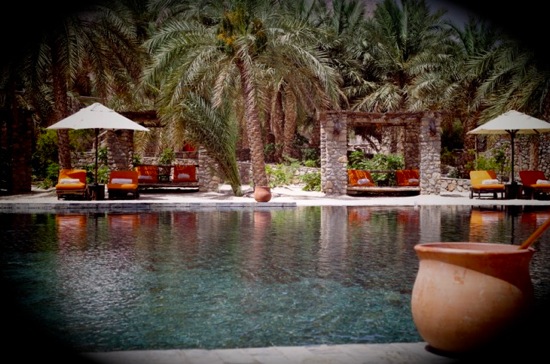 It was very hot, but there was always a place to splash off, wash your feet and keep cool here.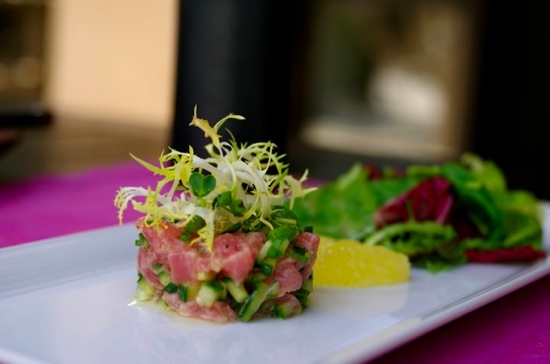 Delicious cold tuna tartar served by the pool.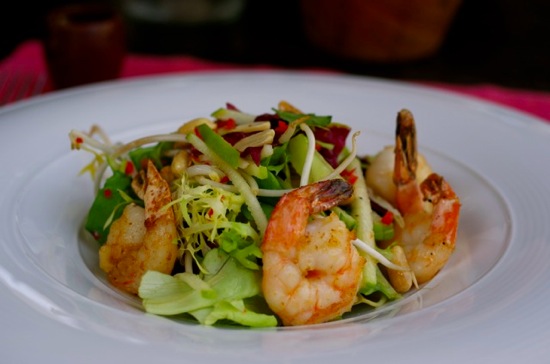 And a favorite dish, local shrimp salad with apples, nuts, and fresh lettuces grown in their very own garden.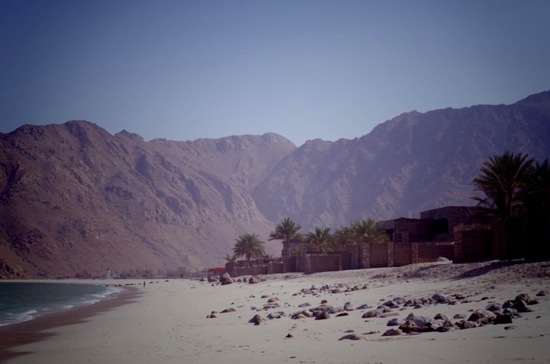 The 1.6KM stretch of beach was simple, and the water was a bath tub.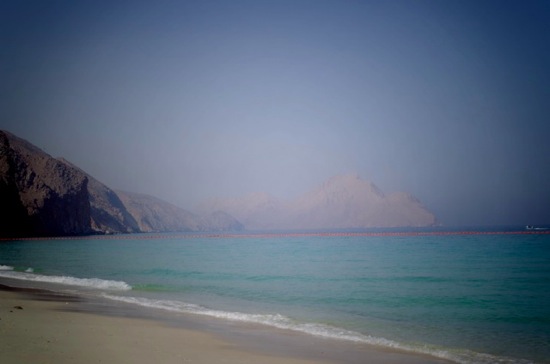 It was a little bit hazy from the heat, but the rock cliffs went on for miles around the peninsula.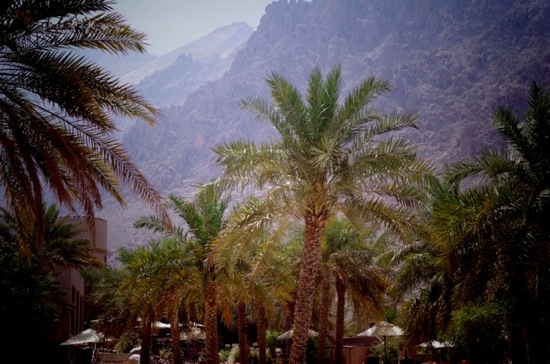 Zighy Bay is best described as desert against the mountains on the beach.  It's truly a spectacular landscape.  I've never seen anything like it.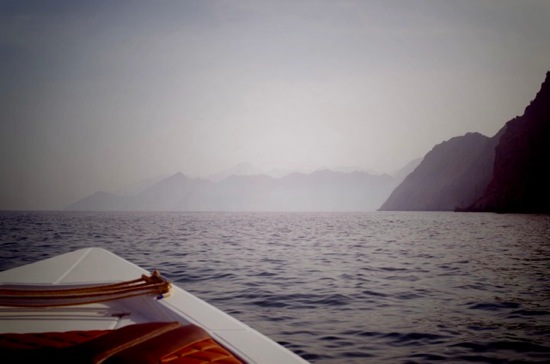 On the last day we took a boat out for a snorkeling trip around some of the cliffs– a highly recommended activity.  We saw loads of fish, squid, and a family of sea turtles. The water was calm our entire trip and almost serene.
If you're visiting Dubai and considering a trip away for the weekend, look no further.  And if you're considering a trip to the region, put this place on your list.  I'll be back, that's for sure!
Six Senses Zighy Bay
Zighy Bay, Musandam Peninsula Sultanate of Oman
GPS: Latitude North 25′ 42 mins 0.67sec
Longitude East 56′ 16 mins 0.17sec