Porn Palace for God: NYC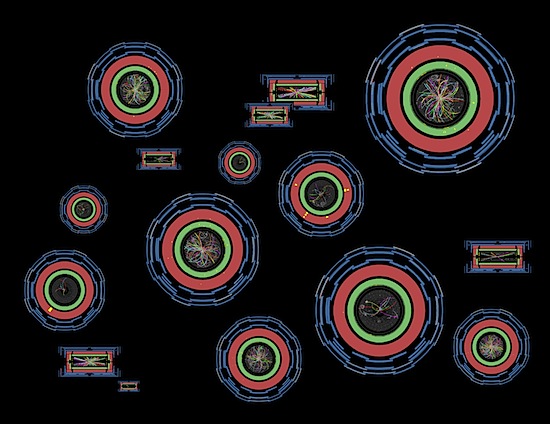 This might offend a few people, if so, I'm sorry. Jonathan Keats strikes again.
Nearly fourteen billion years after the Big Bang, next month an American pornographer will screen intimate scenes from the conception of the cosmos in order to stimulate God to conceive new universes. Establishing a direct link from the Large Hadron Collider (LHC) in Switzerland to an alternative arts space in Brooklyn, Jonathon Keats will attempt to arouse God with high-energy particle interactions not seen since the universe burst into existence.
"To a deity, the Big Bang is very sexy," explains Mr. Keats. "The Big Bang is divine coitus. And with the LHC, we can now simulate it at least as accurately as a porn star can fake an orgasm."
Renowned for making porn for houseplants by filming honeybees, Mr. Keats was inspired to become God's pornographer after noting the Creator's eons of celibacy. "I felt sorry for God," he confesses. "Monotheism must be lonely."
Yet it was only after he read about the capabilities of the Large Hadron Collider – popularly known as the Big Bang machine – and found out that the new $6 billion apparatus was merely being used for physics, that he figured out a way to bring God some joy. "The LHC has recently begun smashing together protons at energy levels as high as seven trillion electron volts," he says. "We now have the technology to titillate God with quarks and gluons, and maybe even the Higgs boson."
Situated in the not-for-profit gallery Louis V E.S.P., Mr. Keats' porn theater will present a live feed of graphic data from the LHC for an exclusive two-week run beginning on November 12th. For optimal viewing, the pornographer and artist has developed a special screen. "We're showing the porn on a votive altar," says Mr. Keats. "In terms of communicating with God, that's a technology that dates back millennia, and has never been surpassed by the Vatican or anyone else." With the addition of incense and candles, "it becomes sort of a divine porn palace," adds Louis V co-director Scott Kiernan.
According to Mr. Kiernan, Louis V will also host Mr. Keats' pornography for plants, featuring explicit acts of pollination, which will be projected onto the foliage of local flora brought in from the Williamsburg neighborhood where the arts space is located. Both screening areas will also be open to humans during select hours, though Mr. Keats has requested that people respect the privacy of the primary audiences, especially God.
"Some New Yorkers may consider God-porn to be frivolous entertainment," says Mr. Keats, "but I believe that this erotica may have cosmic importance. Our world is coming apart, both locally and at the universal scale, where dark energy is accelerating the expansion of space. Now may be our final chance to excite God to procreate again, conceiving new universes with alternate ends."