OMGPOP: Hover Kart Racing!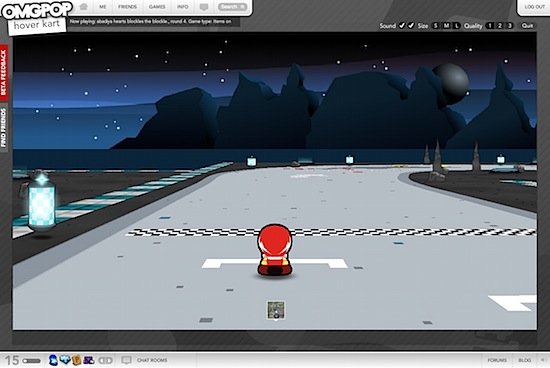 I just got finished racing a Hover Kart with 7 of my friends. I kid you not. Remember iminlikewithyou, the super-fun social gaming site that renamed to OMGPOP recently? Thought so, we know you're still addicted to dinglepop. Well, the incredible team there just launched maybe the most addictive racing game the interwebs will ever see, and it's called Hover Kart. Think 3D graphics, 16 bit sound, and 8 players racing their chosen Karts on over 20 awesome tracks. Hit shift to jump/drift, and space bar to activate items. Hint: Drifting for a while gives you an extra boost.
Also, Hover Kart players can now earn or buy coins and use them to purchase higher performance Karts, driver upgrades, extra lives, power-ups and all that good stuff in the game. The launch of Hover Kart coincides with the launch of the OMGPOP virtual store with micro-transactions. Congrats guys, this is huge.
Um, see you on the track?
Disclosure: I'm an advisor to OMGPOP.