Murakami Does Macy's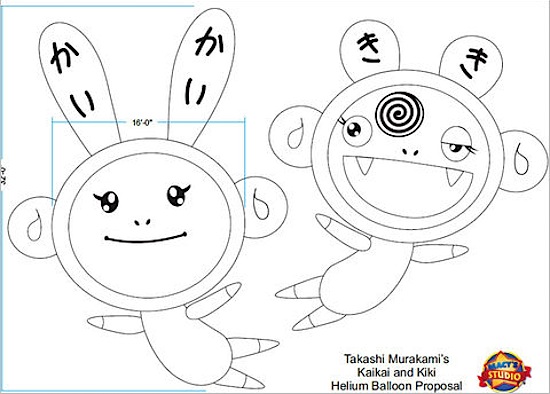 This is big for Murakami fans and collectors. The well known characters Kaikai and Kiki will be even more well known after their appearance in the Macy's Thanksgiving Day Parade.
If familiar figures like Kermit the Frog and SpongeBob SquarePants are simply too jejune for you as their larger-than-life, helium-filled representations wind their way toward Herald Square on Thanksgiving morning, the organizers of the Macy's Thanksgiving Day Parade have added two new entrants to the 2010 lineup that they hope will appeal to more erudite tastes. Kaikai and Kiki, two weirdly cute (or is that cutely weird?) characters created by Takashi Murakami, the Japanese pop artist, are being turned into larger-than-life balloons that will mix it up with the traditional cartoon stars and corporate trademarks that will populate the parade's 84th annual run on Nov. 25, the parade's producers said on Thursday.