Magrette Timepieces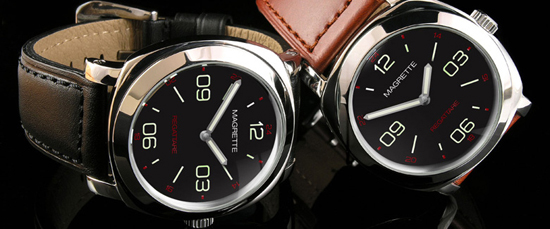 When I think of the small businesses I'd open up, I keep them limited to the realm of practicality. I'm talking clothing boutique, small restaurant, etc. When I hear about someone who starts their own car, shoe, or watch company, I am intrigued. Over the years, my interest in watches has progressively increased while my counterparts ditched them for cell phones. I think of the timepieces as work of art, both aesthetically and mechanically. It's only fitting that a watchmaker would be considered an artist.
Dion McAsey started Magrette Timepieces while he was still a Managing Director of a creative agency. Surprisingly, he says it was an easy transition because he took it slow, learning along the way. He's formed partnerships on a global scale, using straps from Canada, hands/dials from Germany, and a Japanese movement. Everything gets assembled by hand in New Zealand and tested (water and regulation).
Last year's release, the Regattare Valencia, sports a 21-jewel Miyota movement, 2mm sapphire glass, a beautiful dial and luminescent hands, and two leather straps to match any occasion. Like all the Magrette watches it's nautically themed, with this particular model displaying the America's Cup colors. What impresses me most about Magrette is that you are buying a total package. Customer service, the packaging (you have got to see the leather roll case), and the extras (straps, tool, handwritten warranty card) make for a very pleasing experience. If you're looking for a dependable watch that can work at both the office and a the post-work bar, check them out.
[EDITOR'S NOTE: Yes, this watch looks strikingly similar to the historic Panerai, one of my favorite timepieces. It is, however, significantly cheaper for those of you without rich girlfriends, good jobs, or a taste in extraordinary time keeping. Thanks for all the comments, we love them.]