KILLSPENCER Bags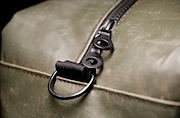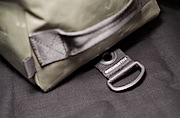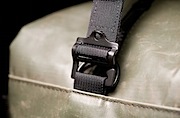 Spencer Nikosey is talented, period. Not only is he a graduate of Art Center College of Design (that place breeds talent), but just 4 months after he graduated he's now running a fantastic little business, with some very special products. Despite the name of his new brand, I think we should very much keep him alive.
He designs and makes what he calls "Premium Artifacts" which are, right now, bags made from "used in combat" military truck tarps, preserved coated cotton canvas from the Korean and Vietnam Wars, and some new materials he's been exploring and experimenting with as well.  The brand is called KILLSPENCER.
The bag I received a sample of (shown here for $425), is from the Repurposed Collection and boasts some real history and serious craftsmanship. All the wear and tear is original, which feels a little weird knowing it was used in the Korean War, but also has a great origin story. He uses the highest grade parts, custom waterproof zippers, cobra buckles, and military webbing everywhere. The attention to detail on these bags is insane to say the least.
He has currently designed 15 mens bags, a weekender bag, a messenger bag, and a backpack available in 5 different colors. Each product is individually numbered and made in very limited quantities in Los Angeles. Drooling yet? Check out this film. As if his bags didn't show his design talent, this film alone will.
More pictures of all the different bags after the jump. Gorgeous work Spencer, congrats!