Jose Gonzales: In Our Nature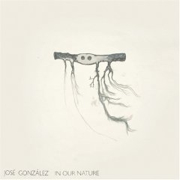 Our heads have been bobbing all morning to the new Jose Gonzalez album, In Our Nature. No, it's not available yet (slated for a September 25 Release), and yes, we're naughty boys for listening to leaked music — but I assure you I'll buy three copies to make up for it. The new album continues his compassionate, sometimes heart-wrenching finger picking melodic-madness that was Veneer (the rookie album sold just over 700,000 copies, not to shabby for an acoustic guitarist).
You can grab one of the best singles on the record, Down The Line already, available on iTunes DRM free and worth every penny, and be sure to catch him this Fall on tour around the US — this man is a genius.