Jawbone Funny Video Contest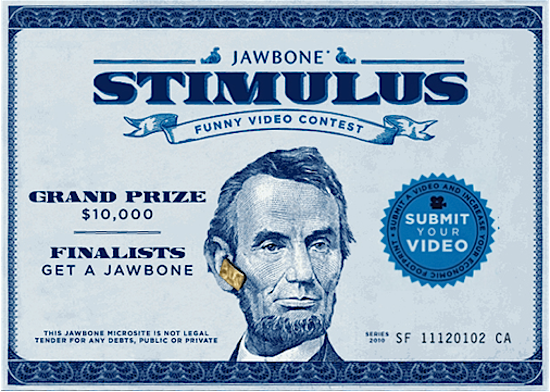 Ever been on a call where unwanted background noise caused an annoying interruption or humorous mishap?
Our friends at Aliph know it happens, so they're launching the "Jawbone Stimulus Funny Video Contest" with a grand prize of $10,000.
Starting today through June 1, 2010, we're calling on comedians, filmmakers, and creative types to submit short videos, one-minute or less, that showcase funny moments caused by unwanted and unexpected background noise during a phone call.
To help stimulate your imagination and hopefully some laughs, we're awarding cash and other cool prizes to the best submissions. The winning video will receive $10,000, be featured on Jawbone.com, and possibly used in future Jawbone marketing campaigns. Prizes will also be awarded to those who share videos with their friends (i.e. generate video views by sharing personalized links).
This should be fun.