Inamo: Restaurant of the Future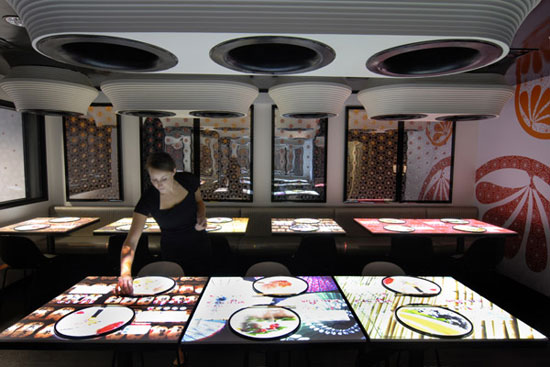 You know what's annoying about restaurants: waiters. They bring you the wrong orders, you can't find them when you need them, and conversely they constantly check up when you don't (no offense to any of our reader/waiters, we're sure you're terrific). New London restaurant Inamo is taking a technological approach turning everyone's table into a computer. At Inamo, order food, change the color or design of the table, play battleship (which is amazing), check out what's happening in the kitchen via webcam, request the waiter, pay the bill — everything can be done from your table that doubles as a computer screen. This isn't Microsoft Surface, it's a projection from above that doubles as lighting and visual effect.
The fact that our table was a computer was inspired, but by the time the food comes who cares right? Well the food was amazing, too. Get the black cod. As fun as it was to have a computer table, that was the highlight of the night. Hit the jump for a few pictures (via Johannes Kleske) of my visit there.