I Went Floating in the Dead Sea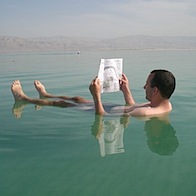 It's an unexplainable feeling, really. No, that's not me– but it certainly could have been me floating in the Dead Sea reading the newspaper. After all the YGL sessions today, I popped down to the lowest place on earth (1,385 feet below sea level) for a swim, or maybe better described as a float. With 33% salinity it's as close to swimming on the moon as I have ever felt. You can totally just do barrel rolls on the surface, a total lack of gravity– but watch your eyes, this water stings brutally bad and tastes as foul and salty as you could ever imagine.
Environmentalists guess that due to lack of fresh water (duh) the Dead Sea will likely be entirely evaporated in another 50 or so years. I recommend a trip to Jordan or Israel pronto to experience it! No word on the healing powers, although my skin does feel a little bit softer now.