Hello Evoque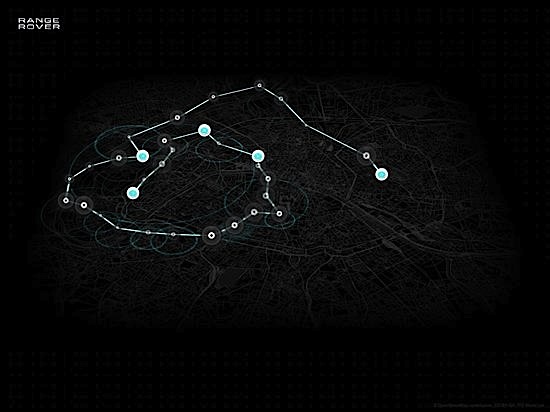 As part of their elaborate campaign to launch the new Evoque, an SUV cross-over aimed at a younger demographic, Range Rover is relying on a two pronged approach. First, their Pulse of the City app was released mid-November for the iPhone and Android platforms and allows you to track your journey using virtual GPS breadcrumbs then have it displayed back in a nifty visualization. Range Rover recently teamed up with the band OK Go as the quartet made their way through the streets of Los Angeles, playing their instruments along the way.
Second, the car company has enlisted the help of a couple of influential trendsetters in nearly a dozen cities worldwide. These ambassadors range from actors to singers and people involved in fashion, design, and so forth. They are loaned an Evoque to drive around their cities, visiting their favorite spots and narrating the journey. It's a great insight into what these places mean to the people who live there and know it best.
This campaign is an innovative approach at bringing together social media, geolocation, and real-time interaction to create an interesting and dynamic marketing campaign. And, from what I have seen of the Evoque in person, this is exactly what will appeal to the targeted drivers.
Related: Timothy Saccenti's Evoque