Eva Jiricna x Hotel Josef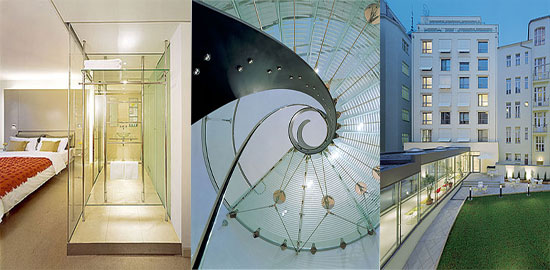 We like mixing up a bit of modern design culture with the great historic architecture. So when I heard that Hotel Josef just around the corner from Old Town Square in Prague was designed by London (though Czech nationality) architect Eva Jiricna I knew I had to stay there. The hotel had everything you would expect from a four star hotel: very helpful staff, gym, sauna, beautiful bar and breakfast — the typical amenities you can list off any given four star hotel website. But where Hotel Josef rises above the rest is in its attention to details. Beside being designed by one of the great contemporary architects of recent years, they completely cater to creative professionals: WiFi throughout the lounge and bar, high speed Internet and iPod docks in the room, and such progressive design you feel like your staying in a piece of art. If you make it to Prague we highly recommend checking out the Hotel Josef and if you are in the literary scene at all note that the Prague Writer's Festival is hosted by the hotel every year. If Hotel Josef is a little out of your budget, we wrote up the wonderfully beautiful Miss Sophie's Hostel a while back as well.
Check out some more pictures after the jump.