Baileys: Listen To Your Lips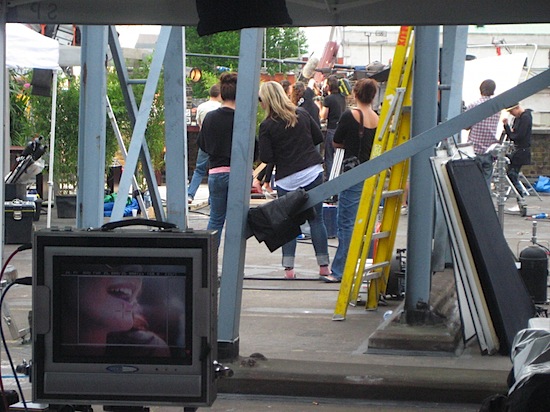 If you had to compile a list of the top body parts that we human beings tend to listen to, the first two slots on that list would undoubtedly belong to our heads and our hearts with our bladders and stomachs rounding out the third and fourth spot. The folks behind the Baileys Irish Cream brand are hoping their new ad campaign will allow "your lips" to ease into one of those top spots. To show off how they might just change the order of organs we so trust, Baileys invited us along to get an exclusive look at the filming of their new spots helmed by Icelandic director Borkur, in London last week.
The "Listen To Your Lips" campaign created in concert with JWT's London Office is an attempt to change the way the public views the Bailey's brand. According to JWT's Creative Director Hugh Todd, current drinkers have long thought of the tasty liqueur in terms of both Christmas-time or coffee-time, rather than an enjoyable anytime beverage for the of age. While not an attempt to change the culture of their drink altogether, the idea behind their new set of adverts is to encourage flavorful alcohol enthusiasts that it's okay to get an urge for Bailey's even when there's no java or Douglas fir around.
So just how did they attempt to get that point across? Well, the miracle of the pop hook plays a big role. The three ads bring us to the three distinct settings of a bar, an apartment, and a rooftop. Each situation is beautifully paired with it's own impossibly infectious tune getting the sing-along treatment from a sufficiently sexy set of smackers. The idea ultimately equates the sudden thought of drinking a Bailey's Irish Cream with the undeniable impulse one gets to sing along with the chorus of their favorite ditty. The idea of drinking a Bailey's on ice or in any form becomes catchy rather than seasonal. The campaign also eschews the traditional sense of narrative to allow the viewer to fill in their own blanks and figure out how the spots relate to them instead of forcing a situation where
they find little to no common ground.
Judging by the action we surveyed on set with close ups on luscious lips karaoke-ing in unison with incredibly addictive tunes, JWT and commercials on their hands. We expect that they'll soon have lips around the world humming their tune and drinking their kool-aid"¦or Irish Cream. The ads in question are set to start making waves internationally in late July. Hopefully, we'll be able give you an exclusive sneak peak before that to whet your appetite. If you're interested check out some more pictures after the jump…