Alex Pardee x Watchmen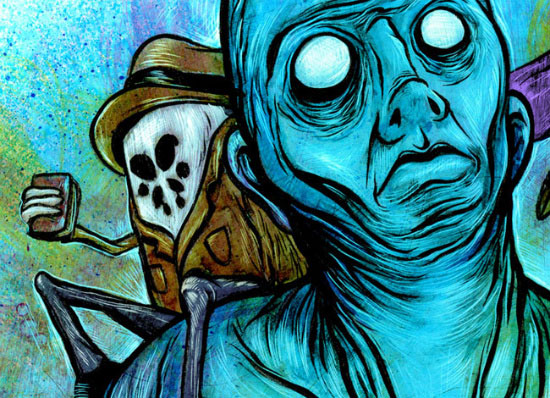 We have no idea yet whether or not Watchmen will be as appetizing as The Dark Knight or as revolting as Catwoman. But we do know is that it's directed by 300's Zack Snyder, so it has a fighting chance at being great. The film, based on the comic created by writer Alan Moore (who also published the super-dirty comic Lost Girls) and artist Dave Gibbons and set in an alternative 1985 where Nixon is still President, the U.S. is on the verge of going into nuclear war with the U.S.S.R. and superheroes aren't just part of our collective imagination. In advance of blockbuster's release later this year, eerie illustrator Alex Pardee's company Zerofriends is selling a Watchman-inspired print at this weekend's New York Comicon.
For those of you on the West Coast, Pardee will be a part of The Art of Rebellion, a one-night-only group art show for Harley Davidson held this Saturday (2/7) night at the Robert Berman Gallery in Santa Monica. Other artists at the event include Shepard Fairey, Frank Kozik, and Tara McPherson.