99% Conference: Win A Ticket!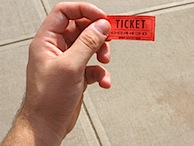 I raved about the 99% Conference happening this coming Thursday at the Times Center in NYC put on by our dear friends over at Behance already. But what about giving away a free ticket to the awesome and inspiring festivities? I've got one sitting here ($490 value) and will give it to the 99th person who leaves a comment on this post. Yes, you can comment more than once. GO GO GO!
Don't worry, if you don't win this arbitary contest, you still have time to buy one!
Update: Congrats to Nick. Contact me to get your ticket!